Shaggy & Friends charity concert 2014
Happy New Year, everyone! The New Year rings in with the fourth staging of the Shaggy & Friends Benefit Concert, which will be held on the Lawns of Jamaica House on Saturday, January 4, 2014.
Line-up
The 2014 concert will be headlined by Shaggy himself, along with Ne-Yo and Tessanne Chin, the champion of the US installment of The Voice and longtime Shaggy and Friends collaborator. This will be her first concert since claiming the title in December and Jamaica is understandibly excited to see the local songbird in action.
Other artists to perform are none other than Sean Paul, Elephant Man, Tarrus Riley, Pinchers, Konshens, Wayne Marshall, Agent Sasco, Admiral Bailey, Admiral Tibet & Mighty Diamonds, Carlene Davis, Chronixx, The Voice competitor Matthew Schuler, and many very special guests!
Tickets and Cause
Tickets will be available while stocks last at Pegasus, LG Service Center, Pet Com Dunrobin & Ocho Rios, Cannon Ball, Liguanea Drug & Garden and Music Mart.
The Shaggy & Friends concert benefits the Bustamente Children's Hospital, the only pediatric hospital in the Caribbean.
Free online live stream
Can't attend? The event will be streamed online for free via: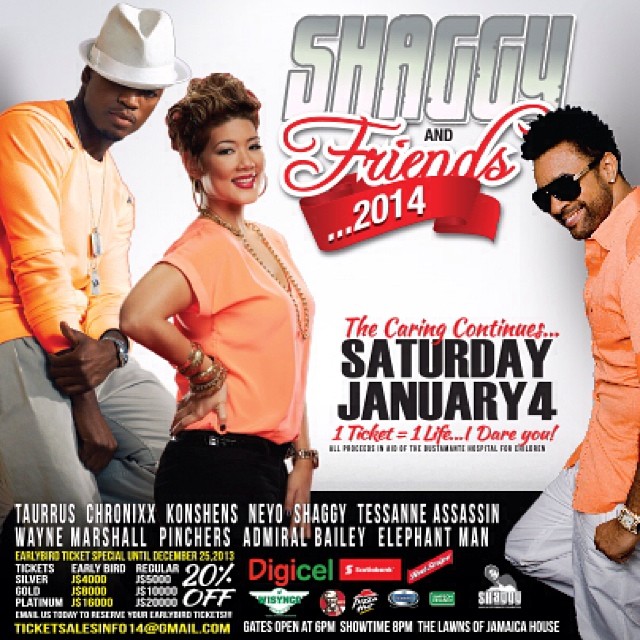 Save a Life
Here's another chance to play your part and Make A Difference for the Bustamante Children's Hospital! There are several ways you can donate to The Shaggy Make A Difference Foundation, whether or not you will be attending the show. Check out the options below!