NEWLY ADDED TOUR DATES! Shaggy's 2015 concert tour and releases schedule
January 31 – Surfbeats Festival, Pichilemu, Chile
February 13 – Singers in Action, New Jersey Performing Arts Center, New Jersey
February 14 – Singers in Action, Brooklyn Academy of Music, NY<
February 20 – Food for the Poor Gala, Boca Raton, Florida
March 7 – Moon Palace Jamaica Grande opening, Jamaica
March 27 – Centennial Night, Toronto, Canada
April 1 The New Pulse FM, North Carolina
April 9 – Pandemonium Live with Machel Montano, Hope Gardens, Jamaica
April 11 – Reggae Riddims Live!, Foxwoods, Connecticut
April 12 – Shaggy with Samantha J and DJ Pup Dawg, Portland, Maine
April 14 – La Mega Mezcla, Madison Square Garden, New York
April 21 – Siesta Fest, San Antonio, Texas
April 24 – The Tonight Show featuring Jimmy Fallon, NBC
April 25 – Oslo, Norway
April 28 – Drammen, Norway
April 30 – Alta, Norway
May 1 – Trondheim, Norway
May 2 – Stavanger, Norway
May 5 – KTU 103.5 at Resort World Casino, New York City
May 16 – Big Top Luna Park, Sydney, Australia
May 17 – Eatons Hill, Brisbane, Australia
May 20 – Wrestpoint, Hobart, Australia
May 21 – Forum Theatre, Melbourne, Australia
May 22 – HQ, Adelaide, Australia
May 23 – Astor, Perth, Australia
May 31 – 103.5 KTU's KTUphoria 2015, Wantagh, New York
June 6 – JAM'N 94.5 Presents Summer Jam 2015, Mansfield, Massachusetts
June 7 – Jamming Festival 2015, Bogota, Colombia
June 12 – 99.7 NOW! presents June Boom!, San Jose, California
June 18 – Venice Beach House, California
June 20 – Wild 949 Ultimate Pool Party, Water World, Concord
June 20 – Social Saturday, San Jose, California
June 27 – Boise Music Festival
July 2 – Times Square, New York
July 4 – Tampa, Florida
July 7 – NBC Today Show, Rockefeller Center, NYC
July 9 – Mid Summer Jam, Jacksonville, Florida
July 17 – One Love Reggae Music Festival, Italy
July 23 – Civray, France
July 24 – Nanterre, France
July 25 – Paris, France
July 26 – Eutropia Festival, Rome, Italy
July 28 – Milan, Italy
July 31 – Reggae Geel, Belgium
August 1 – Woodstock Festival, Poland
August 2 – Yaam, Berlin
August 3 – Affiliate Ball, New York
August 7 – Carolina Reggae Summer Jam, Charlotte, North Carolina
August 8 – Atlanta Reggae Summer Jam, Georgia
August 9 – 10th Annual Caribbean Concerts, Six Flags, New Jersey
August 13 – Stamford, Connecticut
August 15 – Drais Beach Club Night, Las Vegas, Nevada
September 6 – Saipan, Mariana Islands
September 18 – Chillfest, Utah
November 7 – Grondfest, Chile
December 13 – Sounds of Reggae: Shaggy & Friends, Brooklyn, NYC
Shaggy 2014 concert tour and releases schedule
January 4 – Shaggy & Friends charity concert, Jamaica
January 31 – Raggamuffin Festival, New Zealand
February 2 – Solomon Islands
February 5 – The Cosmopolitan, Papua New Guinea
February 15 – 9 Mile Music Festival, Miami
February 25 – Brooklyn Bowl, New York City
February 26 – Englewood, New Jersey
February 27 – Paradise Rock Club, Boston, Massachusetts
February 28 – Aqua Fridays, Atlantic City, New Jersey
March 1 – Norfolk, Virginia
March 2 – Silver Spring, Maryland
March 20 – Tom Joyner Foundation Fantastic Voyage 2014, Miami
April 17 – Marriott Hotel Ballroom, Doha, Qatar
April 24 – Pandemonium, Jamaica
April 29 – Antigua Sailing Week, Antigua
May 16 – Sesc Pompeia, Sao Paulo, Brazil (sold out)
May 18 – Virada Cultural 2014, Sesc Itaquera, Brazil
May 22 – Los Angeles
June 1 – Detroit Belle Isle Grand Prix
June 6 – Porec Music Festival, Croatia
June 7 – Afro-Pfingsten Festival, Switzerland
June 12 – Erie Canal Harbor Central Wharf, Buffalo, New York
June 13 – Sound Empire, Ontario, Canada
June 14 – Oshawa Music Hall, Ontario, Canada
June 18 – Empire State Plaza, Albany, New York
June 20 – Alameda County Fair, California
June 21 – Sierra Nevada World Music Festival
July 5 – 15th Anniversary Ska Festival, Victoria, Canada
July 20 – Hollywood Bowl, Hollywood
July 22 – House of Blues San Diego, California
July 25 – Mayjah Rayjah Music Festival, Maui, Hawaii
July 26 – Honolulu, Waikiki, Hawaii
August 1 – Reggae Sun Ska, Pauillac, France
August 2 – African Music Festival, Emmendingen, Germany
August 3 – 20th Anniversary Reggae Jam, Bersenbruk, Germany
August 4 – Supersano, Lecce, Italy
August 7 – Motion Ramp Park, Bristol, UK
August 8 – BoomTown Fair Festival, Winchester, UK
August 10 – 15th Anniversary Reggae Sundance Festival, Liempden, The Netherlands
August 13 – Chiemsee Reggae Summer Festival, Germany
August 14 – Overjam International Reggae Festival, Tolmin, Slovania
August 17 – Underground, Cologne, Germany
August 19 – Mojo Club, Hamburg, Germany
August 20 – C-Club, Berlin, Germany
August 22 – Rototom Sunsplash, Benicassim, Spain
August 23 – Uprising Reggae Festival, Bratislava, Slovakia
August 24 – Liverpool Music Festival Summer Jam, UK
August 24 – Gate Crasher with Westwood, Birmingham, UK
August 25 – Notting Hill Carnival, London, UK
August 26 – Gotha Club, Cannes, France
August 28 – Venice Sun Splash, Italy
August 29 – On Da Reggae Tip, JBL Live, Pier 97, New York
September 20 – Club Mega Fest, Namboole Stadium, Uganda
October 20 – Welcome To Jamrock Reggae Cruise 2014, Miami
November 5 – Boston, Massachusetts
November 6 – Webster Hall, New York
November 7 – Toad's Place, New Haven, Connecticut
November 8 – The MET, Providence, Rhode Island
November 11 – Baltimore, Maryland
November 12 – Philadelphia, Pennsylvania
November 13 – Pittsburgh, Pennsylvania
November 14 – Columbus, Ohio
November 15 – Indianapolis, Indiana
November 16 – Cleveland, Ohio
November 18 – Newport, Kentucky
November 19 – St Louis, Missouri
November 20 – Chicago, Illinois
November 21 – Minneapolis, Minnesota
November 22 – Columbia, Missouri
November 23 – Lawrence, Kansas
November 26 – Denver, Colorado
November 29 – Boombastic 2014, National Stadium, Guinea
December 4 – Bounce, New York City
December 6 – Festival Suena Caracas, Caracas, Venezuela
Shaggy 2013 concert tour and releases schedule
January 5 Shaggy and Sean Kingston live at the Magic City Casino Amphitheater, Miami, Florida
January 19 La Barra Imperial, Palmares, Costa Rica
January 20 Fiestas Palmares de Imperial, Palmares, Costa Rica (info)
January 26 Hangout with Sri Sri Ravi Shankar, Google Hangouts
February 4 Hasely Crawford Stadium, Port of Spain, Trinidad, with Machel Montano and Trinidad James
February 10 Shaggy and The Wailers live at Henderson Pavilion, Las Vegas, Nevada (tickets)
February 24 Arts in the Garden, Kingston, Jamaica
February 26 Love Mi Jamaica Video Launch at the Behind the Screen Series, Usain Bolt Tracks & Records, Jamaica
March 21-24 Shaggy and Machel Montano on LinkUp Radio, Smile Jamaica @ TVJ, MDTV939, SportsMax, HypeTV and OnStage TV @ TVJ
March 28 Port of Roatan, Honduras
April 5 Shaggy and Machel Montano live at Fantastic Friday at the Jamaican Carnival, Kingston, Jamaica
April 27 Sean Paul, Jay Sean and Shaggy live at the Jean Pierre Complex, Wrighston Road, Port-of-Spain, Trinidad & Tobago
April 28 Reggae on the Hill, Farley Hill National Park, Barbados
May 2 General Penitentiary, Jamaica
May 5 Usain Bolt's Tracks & Records, Kingston, Jamaica
May 10 Ruhr Reggae Summer Festival, Revierpark Wischlingen, Dortmund, Germany (tickets)
May 11 CS Intifada, Rome, Italy
May 17 The Green Key Concert, Dartmouth College Collis Center, Hanover, New Hampshire
June 6 Rice and Peas Party's 5th Anniversary, Hotel Chantelle, New York
June 7 Tropical Blendz Take Over, DJ Danielz Birthday Extravaganza, Water St Music Hall, Rochester, New York
June 9 Summer Splash Festival, Waterfront Park, Portland, Oregon
June 11 WBLS Presents Shaggy, Rayvon, Red Fox, RSNY, Gyptian, Mr Vegas, Morgan Heritage and more at B.B. King Blues Club & Grill, New York City
June 28 St Kitts Music Festival, Warner Park Stadium, St Kitts
July 12 Reggaeland, Plock, Poland
July 20 Jamaican Jerk Festival, Roy Wilkins Recreation Center, Queens, New York City
August 8 Sounds of the City, Newark, New Jersey
August 9 Celebrate Brooklyn, Prospect Park Bandshell, New York
and more…
Shaggy 2012 concert tour and releases schedule
January 4 The Tonight Show with Jay Leno, NBC (video)
January 7 Shaggy & Friends charity concert for the Bustamente Hospital for Children & Chain of Hope Foundation, Lawns of Jamaica House, New Kingston, Jamaica (videos)
January 26 Jamaica Jazz & Blues Festival, Greenfield Stadium, Trelawny, Jamaica (video)
February 4 Food for the Poor Building Hope Gala, Boca Raton, Florida
February 8 Shaggy's new feel good album Summer in Kingston will be released as hard copy!
February 11 The Roots Jam Session, Los Angeles (video)
February 16 Sanremo Festival, San Remo, Italy & Rai 1
February 18 World Citizen video shoot, Berlin, Germany (video)
March 1 Monty Alexander's 50 years in music feat. Shaggy and Sly & Robbie, Blue Note Jazz Club, New York (video)
March 22 Echo Awards 2012, Germany
April 13 Shaggy and Cris Cab for Old Duke 2012, Duke University (not yet confirmed)
April 21 Colgate University Spring Weekend Party, Whitnall Field, Hamilton, New York
April 28 Ceylonese Rugby & Football Club, Colombo, Sri Lanka (tickets)
May 18 Discoteca Palmahia, Medellin, Colombia (tickets)
May 19 Estadio Hernan Ramirez Villegas, Pereira, Colombia
May 27 Best of the Best 2012, Miami (tickets) (not yet confirmed)
May 28 26th Annual JazzReggae Festival, Los Angeles (tickets)
June 2 Mbay Megafest, Nelson Mandela Bay Stadium, Port Elizabeth, South Africa
June 4 Rice & Peas Party 5 Years Anniversary & Ranch Entertainment Launch, Santos Party House, New York City
June 9 Adidas Jamboree Concert, Randall's Island, New York City
June 9 Massive B Anniversary Party, Albany Manor, Brooklyn, New York
June 14 DJ Norie's Summer Sunshine, B.B. Kings, New York City
June 15 Wonderland Ballroom, Revere, Massachusetts (tickets)
June 16 The Brewery Exchange, Boston, Massachusetts
June 16 Launch party for Caribbean Connection, Polish Community Center, Albany, New York (not confirmed)
June 17 Stunting Like My Daddy Father's Day Car & Bike Show, LAZ Parking West Indian Social Club, Hartford, Connecticut (concert info)
June 22 Afro-Latino Festival, Bree, Belgium (tickets)
June 24 Festival Afrique-Carib, Almere, The Netherlands (info)
July 13 Megarena, Megapark, Mallorca
July 20 Festival of the Lakes, Wolf Lake, Hammond, Indiana
July 21 Summer Time Affair at Moka Night Club & Lounge, Queens, New York City
July 28 Foxy99 Summer Jam 2012, North Carolina (not yet confirmed)
July 31 NRJ Extarvadance Tournée, l'Espace Lydia, Port-Barcarès, France (not yet confirmed)
August 5 Respect Jamaica 50, O2 Arena, London, UK (tickets)
August 10 Recinto das Festas da Praia, Ilha Terceira Azores, Portugal
August 12 Black Music Special at Beachclub Vroeger, Bloemendaal aan Zee, the Netherlands (not yet confirmed)
August 13 Sunset Party met Shaggy, Q-Beach House, Ostende, Belgium
August 14 Villa Vanthilt, TV EEN, Belgium
August 14 Carré, Willebroek, Belgium
August 17 Centro Sportivo Polivalente, Nardo, Lecce, Italy
August 18 Furuvik Reggaefestival, Gavle, Sweden
August 20 Geneva Art Festival, Switzerland
August 22 Club M, Luxembourg
August 23 Døgnvill, Tronto, Norway
August 24 Kulturfabrik Kofmehl, Solothurn, Switzerland (not yet confirmed)
August 25 Chiemsee Reggae Festival, Ubersee, Germany
August 27 Gotha, Palm Beach, Cannes, France
August 29 The Dome 63, Ludwigsburg, Germany
September 1 4 Bears Casino, New Town, North Dakota
September 2 The Dome 62 on RTL2 TV, Germany
September 2 Shaggy, Beenie Man, Mr Vegas and Machel Montano live at Labor Day Sunday, Webster Hall, New York
September 3 Summer Jam 2012, West Palm Beach, Florida
September 7 Jamaican Party: Usain Bolt x Shaggy, Brussels Expo, Heysel, Belgium
September 8 NRJ Music Tour de Blois, France
September 9 Caribbean Music Festival with Shaggy and Maxi Priest, Elkton, Maryland, US (not yet confirmed)
September 12 The Sounds Of Reggae Social Media Meet & Greet, Footprints Cafe, Brooklyn, New York City
September 28 Shaggy's new album RISE will be released in Germany, Austria and Switzerland!
October 3 CBS Morning Show, CBS New York
October 3 Sounds of Reggae Media Meet & Greet, Rowe's Restaurant, Brooklyn, New York City
October 3 Shaggy at Joe's Pub for Jamaica's Rockhouse foundation, New York City
October 6 Centro de Convenciones Tlatelolco, Mexico City, Mexico (tickets)
October 13 Reggae Fest with Shaggy, Maxi Priest and Friends, Liacouras Center, Temple University, Philadelphia (tickets)
November 16 and 17 Buma Rotterdam Beats Conference & Next Beats, Rotterdam, The Netherlands (info & tickets)
November 30 Forum de Valencia, Valencia, Venezuela
December 1 7 Colors Fest, San Andres
December 12 Sounds of Reggae Concert, Barclay Center, Brooklyn, NY (tickets)
December 13 Carniriv 2012, Port Harcourt, Nigeria
December 29 Jost van Dyke, British Virgin Islands

Shaggy 2011 concert tour and releases schedule
January 9 Festival de Verano, Puerto Gaitan, Meta Villavicencio, Colombia
January 16 Buju Banton & Friends Before the Dawn concert, Bayfront Park, Miami
March 1 Cebit, Hannover, Germany
March 4 NBC Today Show / TVJ Smile Jamaica, TVJ
March 22 Concert at the New Cruise Ship Pier, Falmouth, Jamaica
April 9 American Friends of Jamaica 7th Annual Peacock Soiree honoring Shaggy, Jungle Island, Miami, Florida (no performance)
May 12 Design Caribbean 2011 Formal Launch, Santa Domingo, Dominican Republic
May 21 Luanda Blue Fest, Estadio dos Coqueiros, Luanda, Angola
May 24 Sugarcane (Shaggy's off the hook new single!) release date
May 28 Shaggy will co-host the International World and Reggae Music Awards at the NAPA in Port of Spain, Trinidad!
May 29 Reggae Meets Soca Chutney, Queens Park Savannah, Port of Spain, Trinidad
June 4 Fly 92.3 Summerfest 2011, Saratoga Performing Arts Center, Saratoga Springs, New York
June 5 K104.7 KFEST 2011, New York
June 9 Waterfront Film Festival, Saugatuck, Michigan
June 10 Take 5 & Company on WZZM Channel 13
June 10 FOX on the Block Party on Fox 17
June 10 US-12, Wayne, Michigan with 106.7 The Beat of Detroit
June 11 Fox 2
June 11 Club Opening and Big Rog's birthday at Pulse Lounge for Power 96 Miami
June 18 One Love Concert, Stade de Baduel, Cayenne French Guyana
June 24 Zanzibar International Film Festival, Zanzibar Tanzania
June 26 Grand opening of the Serengeti Fiesta, Mwanza, Tanzania
July 2 Venice Sunsplash, Italy
July 3 World Bodypainting Festival, Pörtschach am Wörthersee, Austria
July 6 P.C. Richard & Son Theater for iHeartRadio Live, New York Win tickets on iHeartRadio, KTU, P.C. Richard & Son Theater!
July 8 Bar A, Lake Como, New Jersey
July 9 Six Flags Caribbean Concert Series, New Jersey
July 9 Torches on the Hudson, New York
July 14 Loveline with Mike and Dr Drew
July 15 Tonight Show with Jay Leno, NBC
July 16 Shaggy live in Kingston!
July 16 Sugarcane video launch!
July 16 Summer in Kingston release party! (Jamaica Star video)
July 19 Shaggy's amazing new album Summer in Kingston is released on iTunes for just $2.99, cop it now!!
July 21 Shaggy on WPIX Morning Show (8:40am)
July 22 WWK Sicherungen After Work party, Munich, Germany
July 23 Reeds Festival, Pfaffikon, Switzerland
July 26 Shaggy performs on Lopez Tonight, TBS
July 31 One Love Peace Concert, Wembley Arena, London (tickets)
August 7 Club Mansion, Kyrenia, Cyprus
August 12 Stadio Comunale, Vernole, Lecce, Italy
August 13 Les Estivales de la Perrière, France
August 15 Sicily Music Village, Valle Ventura Park, Ragusa, Sicily
August 19 Rototom Sunsplash main stage, Benicàssim, Spain
August 20 Beatstock 2011, Brookhaven Amphitheater, Farmingville, New York
August 21 Six Flags New England
August 22 Shaggy, The Mighty Sparrow and mystery guest for Martin Luther King Jr Free Concert Series, Wingate Fields, Brooklyn, New York
August 28 Shaggy and Locksley free concert for Q92, Alliance, Ohio
September 4 Kares Caribbean Bacchanal, Providence National Stadium, Guyana
September 10 Shaggy and Black Uhuru, Marquee Theatre, Tempe, Arizona
September 17 Lyoness Sensation Day, Budapest Arena, Budapest, Hungary (not yet confirmed)
September 20 Shaggy will be on The Joint with Pat MacKay, Sirius XM 42
September 24 Padang Stage (Stage 4), 2011 Formula 1 Singapore Grand Prix, Marina Bay Street Circuit, Singapore
September 25 Village stage (Stage 1), 2011 Formula 1 Singapore Grand Prix, Marina Bay Street Circuit, Singapore
September 29 Ceremony honoring the late Nobel Peace Prizer winner Wangari Muta Maathai, Karura Forest, Kenya
October 1 Tusker All Stars Concert, Nairobi, Kenya
October 6 Shaggy & Sahara, Pretty People Party Night, Carré, Brussels, Belgium
October 8 Bayfest 2011, Mobile, Alabama
October 15 Slammin' Sammy's Birthday Bash, Hartman Arena, Wichita, Kansas
October 16 Children's Miracle Network Benefit, Norris Student Center Louis Ballroom, Northwestern University, Evanston, Illinois
October 22 B.B. King Blues Club, New York
November 6 Intercontinental Gardens, Muscat, Oman
November 11 Skybar, Yas Island, Abu Dhabi, United Arab Emirates
November 12 10 Jaar Q, Brussels, Belgium
November 13 Česko Slovensko Má Talent, Czech Republic
November / December Nigeria
December 3 Festival Mégamiouz, Nouméa, New Caledonia
December 14 Joel Chin tribute, B.B. King Blues Club, New York
December 19 NBC Today Show
---
Shaggy's amazing new album Summer in Kingston
Shaggy's awesome new feel-good album Summer in Kingston is available now! Get your dose of summer vibes now for just $2.99 on iTunes and cop Shaggy's new album Summer in Kingston, you won't regret it!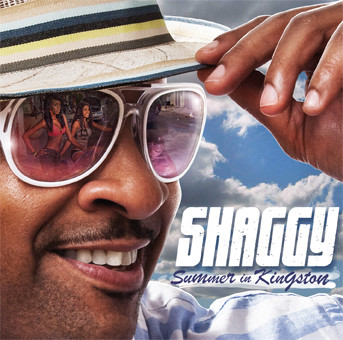 ---
Shaggy 2010 concert tour and releases schedule
January 1 Shaggy & Friends I Dare You 2010 celebrity pre-party, Fiction Lounge, Kingston, Jamaica
January 2 Shaggy and Friends I Dare You 2010 benefit concert, Lawns of Jamaica House, Kingston, Jamaica
January 16 Coke Zero concert, New Kingston, Jamaica
January 17 Jazzy T's Birthday Party with Usain Bolt, Hollywood
January 23 – January 31 Raggamuffin Festival, Australia and New Zealand
January 23 Rotorua International Stadium, Rotorua, New Zealand
January 25 ME Bank Stadium, Perth, Australia
January 28 Raggamuffin Afterparty, Sapphire, Sydney, Australia
January 29 Acer Arena, Sydney, Australia
January 30 Riverstage, Brisbane, Australia
January 30 Raggamuffin Afterparty, Mystique, Brisbane, Australia
January 31 Sidney Myer Music Bowl, Melbourne, Australia
February 20 Ragga Muffins Festival, Long Beach, California
February 23 Negril Escape, Jamaica
February 25 Sun Plaza, Bucharest, Romania
February 27 Caribbean Festival Miami
March 6 Shaggy and other Jamaican artists, The Jungle, Spring Break Jamaica
April 3 I Am Legend 3 with Morgan Heritage, Beres Hammond and Gyptian, Queen's Park Savannah, Port Of Spain, Trinidad and Tobago
April 5 International Kite Festival Jamaica
April 7 Elegante, Dubai, United Arab Emirates
April 9 Emirates Palace Etoiles, Abu Dhabi, United Arab Emirates
April 18 Shaggy, Tarrus Riley, Dean Fraser and Duane Stephenson in concert in benefit of the
Connie Campbell Foundation, Crossroads Nightclub, Bladenburg, Maryland, US
April 30 ICC World Twenty20 West Indies 2010 Opening Ceremony, Guyana National Stadium, Guyana
May 6 Semana Academica, University of Algarve, Faro, Portugal
May 7 Queima das Fitas, Coimbra, Portugal
May 9 Saint Lucia Jazz Festival 2010
May 19 Shaggy & Rayvon on WPIX Channel 11, New York
May 23 (postponed) Walk for Peace: Save Jamaica!
May 29 Pure Night Club, Las Vegas
May 30 Venus Pool Club, Las Vegas
June 4 Discoteca Palmahia, Medellin, Colombia
June 13 Tampa Bay Caribbean Carnival, Vinoy Park, St. Petersburg, Florida
June 16 Mansion, Miami
July 2 Delta Tejo Festival, Lisbon, Portugal
July 3 International Festival of Life, Chicago, Illinois
July 4 Brooklyn Music Festival, New York
July 7 Beiruf, Beirut, Lebanon
July 9 Shaggy & Myriam Fares, Amman, Jordan
July 17 Party FM Mega Jam 2010, Medford, New York
July 18 Shaggy on the Ity & Fancy Cat Show on TVJ
July 24 Reggae Sumfest, Jamaica
July 29 Kursaal, Ostend, Belgium – win tickets!
July 30 Rock in Roma, Rome, Italy
July 31 Suikerrock, Tienen, Belgium
August 1 Part Zenei Fesztivál, Agárd, Hungary
August 2 Casino Palm Beach, Cannes, France
August 4 People, Catanzaro, Italy
August 5 Litoranea Salentina, Lecce, Italy
August 7 Festivent Festival, Parc Champigny, Quebec, Canada
August 8 Sound Academy, Toronto, Canada
August 11 Funkmaster Flex Birthday Extravaganza, Hiphop Legends, B.B. Kings Blues Club, New York
August 12 DJ set at Palms Casino Resort, Las Vegas
August 14 Hot 93.7 FM float, West Indian Parade, Hartford, Connecticut
August 17 House of Blues, Atlantic City, New Jersey
August 21 Shaggy With Steel Pulse, Fort McDowell Casino, Fountain Hills, Arizona
September 3 Hot 97's On Da Reggae Tip, Hammerstein's Ballroom, New York
September 4 Reggaefest 2010: Shaggy & Barrington Levy, Hard Rock Live Orlando, Florida
September 5 Mr Cee's 5 Alarm Blaze Pre Labor Day Party, Webster Hall, New York City
September 6 Daily News float, West Indian Parade, Labor Day, New York
September 15 Gage Club, Bucharest, Romania (postponed)
September 17 VIP Club Theater, Paris, France
October 1 Shaggy & Friends, KC Hideaway, Brooklyn, New York
October 12-14 42 Below ticket competition, Sydney, Australia
October 14 42 Below Shaggy Birthday Party, Good God Small Club, Sydney, Australia
October 16 Road International 27th Anniversary, Mangoville Ballroom, New York
October 18 American Friends of Jamaica 29th Annual Hummingbird fundraiser Gala, Capitale, New York
October 23 "Arthur's Day" Guinness brewery celebrations (Caribbean), National Stadium, Independence Park Jamaica
October 29 12-6 PM Howard University Homecoming International YardFest Celebration, Washington D.C.
October 29 9-11.30 PM Menage, La Fontaine Bleue, Lanham, Maryland
November 4 (October 21) Hangar 11, Tel Aviv, Israel
November 7 Urban Vibe 2010, Prudential Center, Newark, New Jersey Canceled
November 13 Curacao Heineken Regatta
November 20 A Red Rose for Gregory, Tribute to Gregory Isaacs, Kingston, Jamaica
November 20 Pickney Palooza Family & Fun Day, Kingston, Jamaica
December 28 Calabar Rocks Night, Calabar Festival, Nigeria

Past Shaggy 2009 concert tour and releases schedule
January 3 Shaggy & Friends, 1 ticket equals saving 1 life, Shaggy's Benefit Concert on the Lawns of Jamaica House
January 7 Shaggy Parrot & the Reggae Band official presentation, Kingston, Jamaica
January 17 Cayman Islands
January 18 Jazzy T's Birthday Party, Miami
January 24 2009 Raggamuffin Festival, Fremantle Oval, Australia
January 26 2009 Raggamuffin Festival, Byron Bay, Australia
January 30 2009 Raggamuffin Festival, Brisbane, Australia
January 31 2009 Raggamuffin Festival, Lindemans Hunter Valley, Australia
February 1 2009 Raggamuffin Festival, Melbourne, Australia
February 3 2009 Raggamuffin Festival, Sydney, Australia
February 5 2009 Raggamuffin Festival, Wellington, New Zealand
February 7 2009 Raggamuffin Festival, Rotorua, New Zealand
February 12 Dubai Festival City, Dubai Shopping Festival, United Arab Emirates
March 3 Irie Jam Radio Lounge, Clippers NYC
March 14 Sigma Corporate Run, Jamaica
March 15 Power 96 FM stage, Calle Ocho block party, Miami
April 25 Trinidad (not yet confirmed)
May 2 Jazz Festival, St Kitts (not yet confirmed)
May 8 Kulturfabrik Kofmehl, Solothurn, Switzerland
May 9 See Fest Tage, Augstria
May 10 Saint Lucia ?
May 21 Fairground Holdings, Gaborone, Botwana
May 22 Harare Rainbow Towers, Pennefather Avenue, Harare, Zimbabwe
May 23 Orange Karnival and Lugogo Cricket Oval, Uganda
May 30 Grenada
June 6 Club Lido, Boston, Massachusetts
June 6 große Kipp-Roll-Fall Spektakel, MMS Campus Hurth, Germany
June Japan (Tokyo) and Asia
June 18 BMO Music Fest '09, Zepp, Tokyo, Japan
June 20 BMO Music Fest '09, Ginowan Outdoor Theater, Okinawa, Japan
June 21 BMO Music Fest '09, Ginowan Outdoor Theater, Okinawa, Japan
July – early August European tour
July 10 Turabo Society Club in Bucharest, Romania
July 17 Jazz an der Donau, Straubing, Germany
July 18Rush Hour, Dortmund, Germany
July 20 Famous Club Nanno, Antwerp, Belgium
July 21 Freestyle Park, Prague, Czech Republic
July 22 Hangar 7, Salzburg, Austria
July 24 Reeds Festival, Zürich, Switzerland
July 25 Kultlokal, Interlaken, Switzerland
July 26 Ruhr Reggae Summer Festival, Mulheim an der Ruhr, Germany
July 31 Club Bamboo, Mamaia, Romania
August 5 JamJam Reggae Festival, Lecce, Italy
August 7 Sudoeste Festival, Zambujeira do Mar, Portugal
August 8 Porto Beach party
August 12 Havana Club, Antalya, Turkey
August 13 Supper Club, Istanbul, Turkey
August 14 Suada Istanbul, Turkey
August 15 Escape Beach Club, Kyrenia, North Cyprus
August 16 Dance FM Party, Ainapa, South Cyprus Dance FM Party, Club Mansion, Cornaro Beach, North Cyprus
August 18 People Summer09 Tempio di Atlantide, Montepaone Lido, Catanzaro, Calabria, Italy
August 20 Prato Giardino, Viterbo, Rome, Italy
August 21 The Dome 51, Cologne, Germany
August 22 Coke Live Music Festival, Krakow, Poland
August (mid to late August) Canada (Vancouver to Toronto)
August 23 Ottawa Reggae Festival, Ontario, Canada
August 26 Handing over ceremony, Bustamente Hospital for Children, Kingston, Jamaica
September 5 Shaggy on TV: RTL II, The Dome 51
September 24 Skybar, Beirut, Lebanon
October 3 Shakti Love Fest, Shaggy Make a Difference Foundation
October 8 Cricket Champions League Opening Ceremony, Bangalore, India
October 14 Shaggy & Bruck Up perform Sunglasses live on Good Day New York, FOX5
October 24 Pure Night Club, Las Vegas
October 31 Glow Club, St. Gallen, Switzerland
November 6 Lido Night Club, Revere, Massachusetts
November 10 Shaggy hosts the Chain of Hope fundraiser and is interviewed on Angela & Friends on Sky1, Talk Radio Europe, Live and more, London, UK
November 14 Magic City Casino, Miami
November 26 Shaggy Fly High Party, Demodè Disco Club, Bari, Italy
November 27 Teatro Palapartenope / Casa della Musica, Naples, Italy
November 28 Leoncavallo, Milan, Italy
November 29 Fucina Controvento, Malghera, Venice, Italy
December 2 Dinarobin, Mauritius
December 4 The island La Réunion
December 5 Festival International Kreol, Island of Mauritius
December 7 Dance for Climate Change concert, Copenhagen, Denmark
December 8/9 Private party, India
December 11 Shaggy & Sean Paul live concert at Hard Rock Live Hollywood, Florida
December 16 Chi @ The Lodge, Dubai, United Arab Emirates
December 18 Emirates Palace Etoiles, Abu Dhabi, United Arab Emirates
December 22 Annual Christmas Treat, Bustamente Hospital for Children
If there are no links present at the concert descriptions it means there is no further information available at this time (TBA).

More past 2008 concert dates
January 4 Trix and Flix featuring Shaggy Like a Superstar single release, EUFA Euro Soccer Cup 2008
January 5, 6, 9, 11, 12 and 13 2008 Natalia Meets En Vogue and Shaggy concerts, Antwerp, Belgium
January 22 Shaggy performs on the Tonight Show with Jay Leno on NBC
January 23 Chelsea Lately on E! Online
February 8 Platinum Intoxication Album Release Party, Club Pinnacle, Philadelphia, Pennsylvania
February 9 Club Passion, Providence Rhode Island
February 24 Reggae Academy Awards
February 28 UEFA EURO 2008 Party, Bern, Switzerland
March 8 St Vincent Rhythm & Blues Festival, St Vincent
March 9 Heineken Regatta, St. Maarten
March 14 99 JAMZ event for 08 / Waggy T Bashment Party Explosion
March 16 Power 96 Party / Calle Ocho 30th Anniversary
March 17 Negril Spring Break Jam Fest 2008
March 28-30 Haiti shows
April 4 DJ Buck WZMX, Connecticut
April 21 Shaggy presents the Feel the Rush video premier in Berlin, Germany
April 25 Island Vibez Reggae Block Party, Charleston
April 27 Sierra Leone, Africa
May 4 International Reggae and World Music Awards, New York
May 9 Digicel launch concert, Tonga
May 14-21 Promotion in France
May 17 Reggae By the Beach Festival, Valencia, Spain
May 21 Radionight 2008, Vienna, Austria
May 22 La Méthode Cauet, TF1 TV, France
May 23-25 Cannes Film Festival, France
May 25 105.5 The Beat (WBTT) Summer Jam 2008, Fort Myers, Florida, USA
May 31 DJ Willie Daniels Birthday Party, Rochester, New York, USA
June 5 Making the video Feel the Rush on Bayerischen Fernsehen (TV)
June 6 Making the video Feel the Rush on 3-Sat (TV)
June 6 Stefan Raab's(TM) Autoball Europameisterschaft 2008, TV Total, Cologne, Germany
June 7 UEFA Club, Basel, Switzerland
June 7 Burgtheater, Vienna, Austria
June 8 UEFA Fan Zone Event, Klagenfurt, Austria
June 14 St. Lucia
June 12-15 Romantic Rhythms Festival, Antigua
June 16 – August 24 European Tour among which
June 21 Afro-Latino Festival, Belgium
June 22-23 XJam 08, Springbreak, Maturareise, Turkey
June 23 Exclusive French edition of Intoxication album release
June 28 Garance Reggae Festival, Paris, France
July 4 Reggae Im Park, Hamburg, Germany
July 5 Summerjam 2008, Cologne, Germany
July 6 Two Sevens Splash, Amsterdam, the Netherlands
July 11 Jamaica Day, Zaragoza, Spain
July 12 Splash! 2008 Festival, Bitterfeld, Sachsen-Anhalt, Germany
July 15 Arena del Mare, Genoa, Italy
July 16 Rome, Italy
July 17 Colonia Sonora Festival, Collegno, Turin
July 18 Summer Festival, Offida, Italy
July 19 Pori Jazz Festival 08, Pori, Finland Roma Rock Festival, Rome, Italy or Wroclaw 2012 Festival, Poland (both unconfirmed)
July 20 Free People Festival (Wroclaw 2012 Festival), Poland
July 22 Tunisia
July 24 Algeria
July 26 Blue Balls Festival, Switzerland
July 27 Lodz, Poland
August 1 Unplug / Wine Cellar Kupferberg, Frankfurter Hof, Mainz, Germany
August 2 RPR1 Open Air 2008, Mainz, Germany
August 3 Allegro Cup Formula European Windsurfing Championship, Leba, Poland
August 8 Dar es Salaam, Tanzania
August 9 Lugogo Cricket Oval, Kampala, Uganda
August 14 Afrika Karibik Festival, Germany
August 16 Champions In Action (cancelled due to bad weather conditions)
August 22 Krone Stadtfest 2008, Linz, Austria
August 23 Chiemsee Reggae Festival, Uebersee am Chiemsee, Germany
August 24 Acqua In Testa, Bari, Italy
August 25 Notting Hill Carnival MTV Base and Choice FM Road Show, UK
August 29 Romania
August 30 Semtex Cultural Festival, Czech Republic
August 31 Golden Voices Festival, France
September 7 Donauinselfest, Wien, Austria
September 20 Usain Bolt's Homecoming celebration
September 26 free concert in Zurich, Switzerland
October 3 Live TV show, I Migliori Anni, Rai Uno, Rome, Italy
October 5 TV show, Bulgaria More info and video ad
October 6 Ultimative Chart Show, RTL, Cologne, Germany
October 18 Champions in Action, Kingston, Jamaica
October 30 Antilia Carnival
November 8-9 Shaggy's hit single What's Love on Die Ultimative Chart Show on RTL
November 14 Star Academy, TV Station TF1, France
November 15 VIP Room, Paris, France
November 29 Asylum Nite Club 11's Anniversary, Bad Man Nuh Cry world video premier, Kingston, Jamaica
December 6 MTN Concert, Stade Amahoro, Rwanda
December 13 MTN Concert, Stade Amahoro, Rwanda
December 19 Shaggy will be handing out gifts to the children in the Bustamente Children's Hospital, Kingston, Jamaica
December 21 VTM TV Special Natalia Meets…En Vogue feat. Shaggy
2007 Shaggy concert dates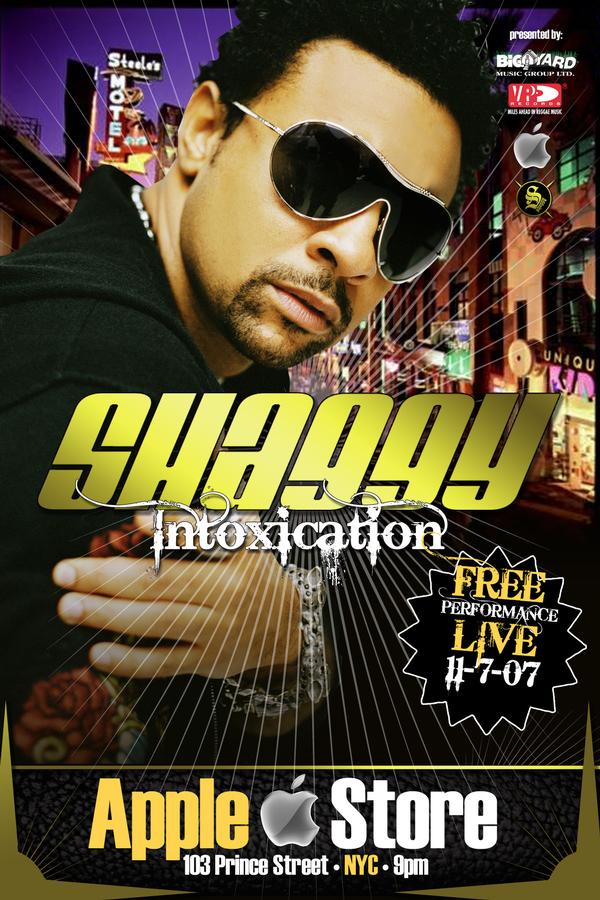 August 4 BVI Heritage Festival, Emancipation Festiville, Festival Village, Tortola, Virgin Islands
August 5 Independence Sunday Market, Lawns of the OAS, Washington D.C.
August 8 New 2007 Shaggy album Intoxication released in Japan
August 8 Singfest 2007, Fort Canning Park, Singapore (Big Yard has Phillippines)
August 10 Reggaefest 2007, AICC, Accra, Ghana
August 11 Reggaefest 2007, AICC, Accra, Ghana and Joy FM Old Schools Reunion
August 12 Reggaefest 2007, AICC, Accra, Ghana (Big Yard has Liberia)
August 18 Champion in Action, Jamaica (NOT Mainz, Germany)
August 22 MOBO Awards Nominations Annoucement, London, UK
August 26 Leeds Reggae Concert, Potternewton Park, Leeds, UK (apparently NOT Trinidad). There will be a live online stream of the concert at BBC 1Xtra
August 27 Notting Hill Carnival, Rampage Stage, Notting Hill, UK (apparently NOT Guyana)
August 28 Notting Hill Carnival Afterparty Choice FM and BBC 1Xtra, Anon and South night clubs, London, UK
August 31 On the Reggae Tip, HOT97 FM, N.Y.
September 2 New York
September 6 FYE Stores Convention, New York
September 19 MOBO Awards, London
September 21 Club Lido, Boston
September 22 Club Crossroads, Washington D.C.
September 24 Wayne Wonder's album release party in Manhattan, New York City
October 4 Antigua
October 5 Shaggy's new album Intoxication will be released in Germany
October 6 World Heavy Weight Wrestling Match, N.Y.C.
October 13 Rehearsal for Shaggy's Award Ceremony, Jamaica
October 15 Jamaican National Heroes Day, Shaggy will receive an Order of Distinction in the Rank of Commander, Jamaica
October 17 Shaggy on Eurobuzz on Eurosport (repeated from October 2nd)
October 19 TV Total Stock Car Challenge Qualifying and Shaggy performance in the Veltins Arena in Gelsenkirchen, Germany
October 20 Shaggy is one of the presenters at the UK Nickelodeon Kids Choice Awards, London, UK
October 20 TV Total Stefan Raab's Stock Car Challenge 2007 in Gelsenkirchen, Germany
October 23 Shaggy's new Intoxication album will be released in the UK
October 26 Intoxication Album Release Party, club AgeHa, Tokyo, Japan
October 27 Intoxication Album Release Party, club I to I, Osaka, Japan
October 29 United Nations World Intellectual Property Organization Conference, Geneva, Switzerland
November 1 MTV Europe Music Awards (EMA) 2007, Munich, Germany
November 3 World Music Awards Pre-Party, Monte Carlo, Monaco
November 4 World Music Awards 2007, Monte Carlo, Monaco
November 7 Apple Soho Store Free Live Event in New York City
November 8 Possibly an Intoxication Release Party will be held at Club Festivals in Philadelphia, US
November 13 Tonight Show with Jay Leno
November 13 Shaggy's new Intoxication album will be released in the US and the Caribbean
November 14 Late, Late Show with Craig Ferguson and PBS's Tavis Smiley
November 15 More TV promotions in LA
December 1 Live & Loud KL 07, Kuala Lumpur, Malaysia
December 6 Hot97 FM club appearance with Mister Cee, New York
December 7 NIKE event, Amsterdam, the Netherlands
December 8 – 13 UK Promo, London
December 14 Guyana
December 16 Beach-A-Rama, Guyana NOT Brasil
December 18 Power 96 Christmas Party, Florida
December 24-25 Bustamente Hospital for Children Charity, Kingston, Jamaica
December 26 Tavis Smiley, PBS (repeat)
December 29 Trinidad
December 31 Bermuda show with Collie Buddz
Please note: Although I try to keep you informed as well as possible, I'm just a fan just like you who gets her information from a lot of sources. I'm not affiliated with Shaggy, Big Yard Music Group or anyone associated with them. The information and links are provided on an as-is basis without any guarantees: the contents of other sites may not be valid, change and links provided may not be right any more et cetera, which is beyond the control of this site. Therefore, the author and web space provider of shaggy.v3x.biz cannot be held responsible for any of these contents.