Shaggy's new 2007 studio album Intoxication has been released in Japan today! If you haven't bought the album yet or you're waiting for the international release date (which is not in August but in October) and if you wanna hear an audio preview of the album, it's finally possible! The track list that's in English on the link I'm going to give you is not completely right, see below for the correct tracklist (thanks to "Japanese Reader").
Click here to listen to the Shaggy album, then click on a track you want to hear and an audio player pops up!
Alternative link to listen to Intoxication in Windows Media and Real Media format
So far I've heard nothing but positive comments on the upcoming album, if you bought it or are going to buy it please let us know what you think of it! I think Intoxication is a great album!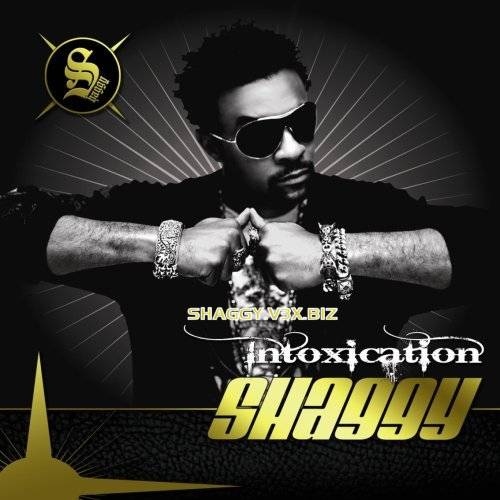 Intoxication track list
1. Can't Hold Me
2. Bonafide Girl feat. Rik Rok and Tony Gold (Shanty Town Riddim a.k.a. Panty Town Riddim)
3. Intoxication
4. Those Days feat. Na'Sha
5. More Woman (Reggae Gold 2007)
6. Woman Scorn
7. Mad Mad World feat. Sizzla Kalonji & Collie Buddz
8. Outta Control feat. Rayvon
9. Church Heathen (Heathen Riddim)
10. Wear Di Crown feat. Mischieve
11. Criteria
12. Body A Shake
13. What's Love feat. Akon
14. Holla At You
15. All About Love
16. Wrong Move *
17. Reggae Vibes (which is also on the Solomon Riddim) *
* = the asterisk indicates the song is a bonus track
Intoxication lyrics
Please note: all lyrics are © of their original owners, no copyright infringement intended. These lyrics were written using Robbo Ranx' radio play of Intoxication, so they are incomplete and might possibly be a little off. Any comments on the words or more lyrics are very welcome!
"Yow!
I'm not crazy you know what's up
You put something inna my drink
Listen gyal mi nah innah nuh freaky stuff
Mi nah mek nuh other man come straight me up
Nuff kisses you hold me and feel me up
Buy me drinks all night and booze me up
She tek three shots and it nah loose har up
Seh Shaggy drink and it a fix her up
Every time she go sleep she tipsy up
Bartender go sweet pon switch the cup
Listen woman me nuh know about weh you a think gyal
Feel like you put something in mi drink gyal
Cos you got me head stuck inna di sink gyal
And I can't remember last night
I ain't never gonna drink again
Before I take a sip I'm gonna think of when
I had sex with my woman best friend again
I can't blame intoxication
Ain't never gonna drink again
Before I take a sip I'm gonna think of when
I had sex with a girl I considered a friend
I can't blame intoxication
Gyal a bounce pon me bed like trampolee
And a shake up me hip like tamboree
And a dive in di pool like swimmeree
Whips and shakes eh gyal how dat come in
Gyal ahug me pon di bed and a tie me up
…
Too much of one thing gyal we glide u up
She just sit on me lap and slide it up
Listen woman me nuh know what you a think gyal
Feel like you put something inna me drink gyal
'Cause you got my head stuck inna di sink gyal
And I can't remember last night
I ain't never gonna drink again
Before I take a sip I'm gonna think of when
I had sex with my woman best friend again
I can't blame intoxication
Ain't never gonna drink again
Before I take a sip I'm gonna think of when
I had sex with a girl I considered a friend
I can't blame intoxication
Baby mother on the phone say she coming early
Like plans at nine now it's eight thirty
How me haffi explain bout her friend Shirley
How… when the sun comes up
booze yuh up
Couldn't drive and drink so me sober up
Never want kill nuhbody upon the road come up
Listen woman me nuh know about what you a think gyal
Feel like you put something inna me drink gyal
Now you got my head stuck inna di sink gyal
And I can't remember last night
I ain't never gonna drink again
Before I take a sip I'm gonna think of when
I had sex with my woman best friend again
I can't blame intoxication
Ain't never gonna drink again
Before I take a sip I'm gonna think of when
I had sex with a girl I considered a friend
I can't blame intoxication
I ain't never gonna drink again
Before I take a sip I'm gonna think of when
I had sex with my woman best friend again
I can't blame intoxication
Ain't never gonna drink again
Before I take a sip I'm gonna think of when
I had sex with a girl I considered a friend
I can't blame intoxication
…"
More Intoxication lyrics here (work in progress)