Shaggy is going to party with his Japanese fans to celebrate the release of his new 2007 album Intoxication. He will return to Japan for the Intoxication album release parties on October 26 and 27 (sorry European fans, Shaggy won't be in Europe those days!). Shaggy and Rayvon will perform at the Intoxicated Fever Special at ageHa in Tokyo on Friday, October 26, where DJ's Maverick, Maximum and Interceptor will also be present. The next day Shaggy and Rayvon as well as Killasan Movement sound system and more will be at the Intoxicating album release party at Good Time Special at Club I to I in Osaka.
Source for the album release party information is Iryouhokenkenntou. You can watch a video promo of Shaggy in a studio in Japan at Barks.jp. Barks.jp also has an old interview with Shaggy as well as info on one of the newest Shaggy Greatest Hits albums.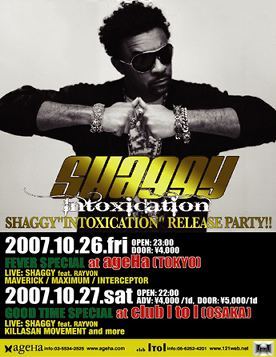 Flyer is © of its original owners and creators, no copyright or other rights infringement intended, featured just for promotional purposes only.