Shaggy Parrot and the Reggae Band
Shaggy contributed to a beautiful book-and-CD set for children, which introduces them in a fun way to reggae music and educates them about pollution! Shaggy Parrot and the Reggae Band is a book-and-CD set for children from ages 0 to 8 years old. The story is about a waterfall in Ocho Rios, Jamaica, that is polluted by people. The waterfall feels sad about the pollution, so a team of sea animals try to cheer it up. Shaggy Parrot, whose voice is read by Shaggy, and friends make reggae music while they help clean up the waterfall.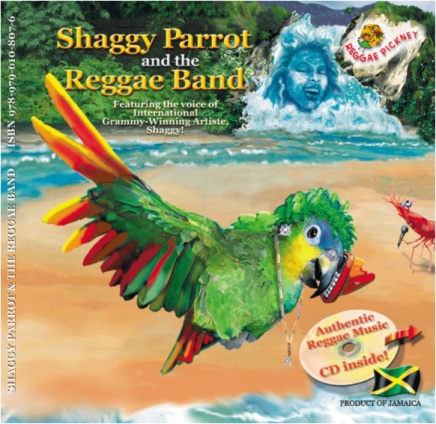 The book has beautiful illustrations and the CD features 9 music tracks by Shaggy. The sales will benefit two of Shaggy's charities, St Andrew's Bustamante Hospital for Children in Jamaica and the Tatiana McIntosh Scholarship fund based in Florida. Read more about the book-and-cd set in the Jamaica Gleaner review article. Shaggy Parrot & the Reggae Band is set to be released in November this year; it will first be available in Jamaica, after which a release in the US will follow.
You can buy Shaggy Parrot and the Reggae Band at Reggae Pickney! The second and third audio clips on the page feature Shaggy. You can also hear some more, take a look in the teacher's guide and watch a tv ad here.
New single by the end of the year, new Shaggy album will follow in 2009!
Shaggy is working hard on new music in his Big Yard studio. He will release a new single by the end of this year… and a new album will follow in 2009!
Tour schedule update
Swiss, Bulgarian, Italian, German and Jamaican Shaggy fans, you're in luck! Shaggy's Official MySpace confirmed the following new tour dates:
September 26 free concert in Zurich, Switzerland
Shaggy, Bligg and Elijah will perform on the 175 years of Zurich high schools' existence celebration on this Friday, September 26. You can read more about it on Tages Anzeiger or the official site die Welt Verstehen and you can get tickets and more info about the open air concerts on die Welt Erleben. Shaggy's performance is on the main stage and starts around 21.30h.
October 3 Live tv show, I Migliori Anni, Rome, Italy TV Show page on Rai Uno
October 5 TV show, Bulgaria More info and video ad
October 6 Ultimative Chart Show, Cologne, Germany TV Channel RTL
October 10 Champions in Action, Kingston, Jamaica
Usain Bolt's homecoming
Shaggy performed at Usain Bolt's Homecoming Celebration concert. Article at the Jamaica Gleaner.
Jay Will and Shaggy tribute to Usain Bolt and the Jamaican Olympic team, from Germany

Shaggy VIP Room video in St Tropez: Boombastic, It Wasn't Me and Church Heathen