Shaggy's concert at Kursaal, Ostend, Belgium
Diamond-selling dancehall / reggae superstar Shaggy will perform in Ostend, Belgium at the Kursaal on July 29!
Wanna hear Shaggy's huge hits like Boombastic, Oh Carolina, In the Summertime, It Wasn't Me, Angel and Hey Sexy Lady and new songs like I Wanna? And see Mr Lover Lover & crew live in concert at the beautiful Kursaal near the sea in Oostende?
Thanks to Kursaal Oostende, you can win 5×2 tickets to spectacular Shaggy's concert in Oostende!
So… what do you need to do to win tickets?
All you need to do is send the answers to the following questions to shaggyv3xbiz@yahoo.com!
1. Name 3 recent Shaggy songs!
2. Tell us why you want to win tickets to Shaggy's concert at Kursaal.
The winners will be mailed by July 28.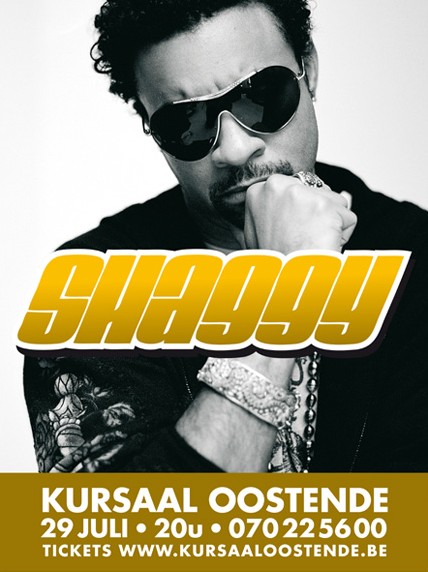 The concert starts at 8PM at Kursaal Oostende, Monacoplein, 8400 Oostende, Belgium. More info. Tickets are available at Sherpa – and of course in the competition on this site!

FAQ
1. I don't live near Oostende but I'd like to win tickets. Can I join in?
Yes you can, feel free to enter!
2. Where can I find Shaggy's most recent songs?
Search this site or read the 2010 news, it should be easy!
Terms & conditions
Anyone can enter the competition. If you're under 18, ask your parents for permission first. Travel and accommodation are the responsibility of the winner and not included in the prize. In the case of cancellation or any other concert changes, shaggy.v3x.biz cannot be held responsible. Tickets (guest list) are provided by Kursaal Oostende. The competition closes on July 28, so join in before!
Privacy statement
Your name, entry and email address will only be used for this competition. We will not share your personal information. You will receive one email from us and you will be added to the concert's guest list if you win.