Happy Birthday Shaggy!
Shaggy was born Orville Richard Burrell 43 years ago on October 22, 1968. Happy Birthday to Shaggy!
Coors Light Silver Bullet Express Concert (New York, today)
Shaggy's going to give a special concert on his birthday alongside Gym Class Heroes and Pete Wentz (The Black Cards, Fall Out Boy) for the Coors Light Silver Bullet Express at B.B. King Blues Club & Grill in New York! Sorry to disappoint you, New York fans: Tickets for this concert are not for sale.
Coors Light Silver Bullet Express Concert info
The Coors Light Silver Bullet train, which has been featured in advertising for the past several years, is coming to life this weekend as the Silver Bullet Express brings legal-drinking-age consumers from throughout the Northeast to New York City for this exclusive concert at B.B. Kings in New York.
One of the Coors Light Silver Bullet Express trains will leave Washington, D.C., Saturday morning, stopping in Baltimore, Wilmington, Philadelphia and Trenton before arriving at Penn Station in New York this afternoon. The other train will start in Boston and make stops to pick up additional winners in Providence, New Haven and Stamford. Other winners, primarily from throughout New York, will travel via air and car to the event. Approximately 600 people will attend tonight's party.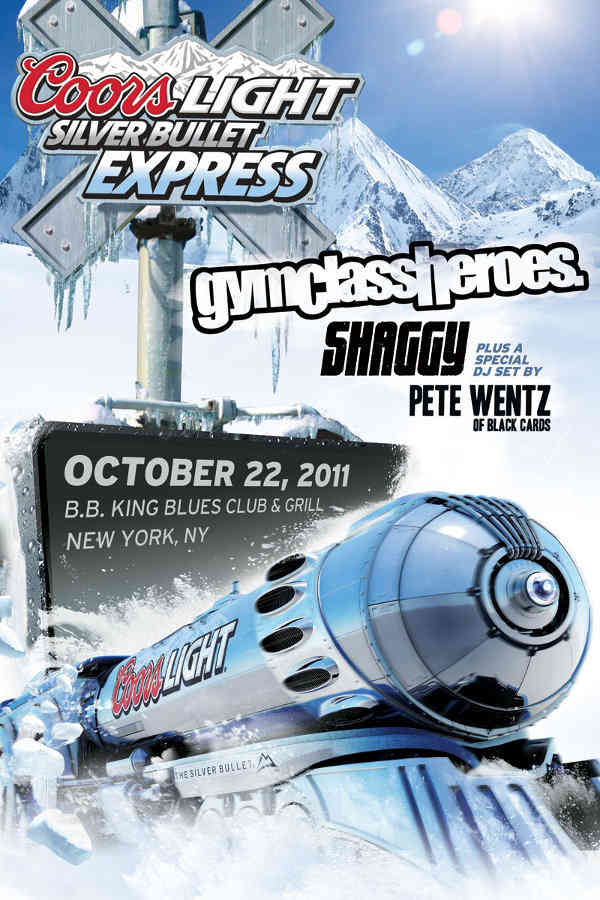 More upcoming tour dates
Visit Shaggy's 2011 tour schedule for all tour dates as known so far!