Tonight: Shaggy and Cris Cab live at the Keohane Amphitheater at Duke University, Durham, North Carolina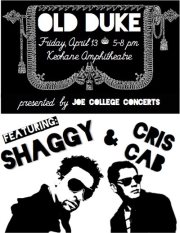 Shaggy and Cris Cab are going to perform at the Keohane Amphitheatre at Duke University in Durham, North Carolina tonight! Shaggy will be on stage around 7 P.M. Entry is free! More info.
Interview and Cris Cab & Shaggy collab Turn You On
Shaggy arrived in North Carolina yesterday and tweeted: "Jus touch down in Raleigh' NC – Duke tun up!!!" The News Observer interviewed Shaggy ahead of his concert, read the interview article here! Fun fact: did you know that Shaggy, Cris Cab and Melanie Fiona recently collaborated on the song Turn You On?
More concert dates
Check the concert schedule page for all of Shaggy's upcoming concert dates as known so far!