Newly added tour dates
Here are the newly added tour dates for 2010! The first three concerts have been officially confirmed at Shaggy's MySpace. The two later dates have yet to be confirmed but they were announced on the concert organizer's sites.
Ragga Muffins Festival (confirmed)
Shaggy, Don Carlos, Frankie Paul, Yellowman, Big Youth, Gramps Morgan, Mikey Spice, Lloyd Brown, Bajah & the Dry Eye Crew, Mystic Roots Band, The Dirty Heads and Yellow Wall Dub Squad will perform on February 20 at the Ragga Muffins Festival, Long Beach, California!
Bob Marley Movement Caribbean Festival (confirmed)
Shaggy, Damian "Jr. Gong" Marley, Stephen "Ragga" Marley, Julian "Royal" Marley, Tarrus Riley, Capleton, Jahfe, Vega under Fire, Resolvers and Spragga Benz will perform at the 17th Annual Bob Marley Movement Caribbean Festival in Miami on February 27! More info here.
Negril Escape (confirmed)
It's official, Shaggy, Rayvon, Terry Wonder and Escapade will perform at the Negril Escape One Love concert series at the Negril Escape in Jamaica on February 23! For information about tickets and more, visit the Negril message board and Negril Escape.
Part of the proceeds will go to the IronShore Basic School, One Love Drive, Negril. The tickets are selling fast, so get your tickets soon!
Spring Break Jamaica
Shaggy and other Caribbean artists (Chino, Laden, Timmi Burrell, Ras Noble, Kurt Riley and ZJ Liquid and maybe also Elephant Man and Beenie Man) will perform in The Jungle in Jamaica during Spring Break on March 6. More info at STS Travel and Jungle Negril.
Saint Lucia Jazz Festival
Shaggy, Maxi Priest, Steel Pulse, Toni Braxton, Foreigner and more artists will perform at the Saint Lucia Jazz Festival 2010, which will be held 9. Source: Saint Lucia Tourist Board and Saint Lucia Jazz.
Photos, videos and reviews of earlier 2010 concerts
Here are a few videos, photos and reviews links of recent concerts!
Shaggy, Wyclef Jean, LL Cool J and Teflon on stage
Shaggy, LL Cool J and producer Teflon joined Wyclef Jean on stage during his performance at the 944 Magazine Super Bowl party at Eden Roc Hotel at Miami Beach during the Super Bowl weekend. Star Traks Photo and Miami.com (Shaggy is in picture 26) have photos! Shaggy sang a very well received rendition of Bob Marley's Redemption Song. Below is a video of Shaggy & Wyclef Jean sharing the stage!
Shaggy & Wyclef Jean: Boombastic, Bam Bam and Big Up

Shaggy and Usain Bolt in Hollywood photos
Seminole Hard Rock and Dancehall.mobi have photos of Shaggy and Usain Bolt at Jazzy T's birthday party at the Opium Nightclub at the Seminole Hard Rock Hotel & Casino in Hollywood, Florida!
Raggamuffin Afterparty in Sydney photos
Meentertainment has a photo gallery (more photos) of the Raggamuffin Festival 2010 Afterparty in Sydney, Australia with Shaggy, Sean Kingston and Julian Marley!
Youth View Awards 2010
Shaggy won the Celebrity Role Model of the Year Award at the Youth View Awards 2010 in Kingston, Jamaica! Christopher Martin accepted the award on Shaggy's behalf.
EME Awards 2010
On February 4 the Excellence in Music and Entertainment Awards 2010 ceremony took place in Kingston, Jamaica. Shaggy & Friends show won the award for Show of the Year! Congratulations!
Jamaica Observer shows of the year
The Jamaica Observer chose the Shaggy & Friends concert in benefit of the Bustamente Hospital for Children as one of the shows of the year. Jamaica Observer article.
New single and video shoot: I Wanna!
Shaggy, Costa Ionita, Andrea (Sahara) and Bob Sinclar shoot a video for their hot new single I Wanna in February at the beaches in Jamaica! Libertatea. If the single hadn't been played on the radio, the song would have been entered into the Eurovision song festival competition. Cancan Showbiz.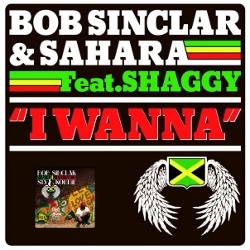 Bob Sinclar, feat. Sahara and Shaggy I Wanna will be featured on Bob Sinclar's upcoming 2010 album Made in Jamaica. For a preview of the single and album cover as well as an audio snippet of the song, visit Bob Sinclar.com!