Shaggy in Sri Lanka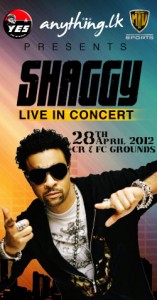 Sri Lanka, get ready to party with Shaggy today!
Shaggy and crew have arrived in Colombo, Sri Lanka for their concert at the Ceylonese Rugby & Football Club today (April 28)!
Shaggy is scheduled to perform at 7.30 PM, so you're advised to arrive at the CR&FC early (5 or 6PM would be great) to avoid long queues. The CR&FC gates open at 4PM.
Concert tickets
Tickets will be available at the gates of the Ceylonese Rugby & Football Club starting at noon!
Arrival photos
Upon arrival, Shaggy lit the traditional oil lamp (photo). For more photos and an article of Shaggy's arrival, visit the Sunday Times! Anything.lk also posted several photos!
Video of Shaggy and crew arriving in Sri Lanka

More tour dates
All upcoming tour dates as known so far!