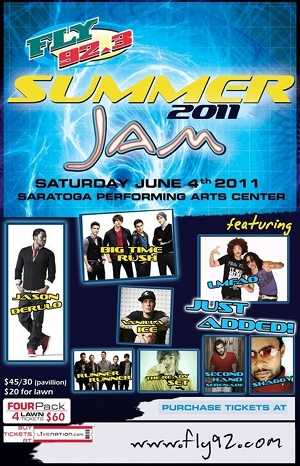 New York and Spanish Shaggy fans, get ready for the upcoming Shaggy concerts!
Fly 92.3 Summer Jam 2011, Saratoga Springs, New York (June 4)
Shaggy will perform at the Fly 92.3 Summer Jam in New York! The Summer Jam takes place at the Saratoga Performing Arts Center in Saratoga Springs, New York on June 4! You can find lots of info about the Summer Jam at the Fly 92.3 official site.
Tickets are available on Livenation and you can try to win front seat tickets at the Fly 92.3 Facebook too!

Rototom Sunsplash Festival, Main Stage, Benicàssim, Spain (August 18)
European Shaggy fans, check this! Shaggy will perform on the main stage of the 2011 Rototom Sunsplash Festival in Benicassim, Spain on August 18! For lots of information about Europe's largest reggae festival and for tickets, visit the Rototom Sunsplash Festival official site!
Shaggy rocked the the Rototom Sunsplash Festival in Italy in 2007 with a concert. Wanna watch the 2007 Shaggy & crew performance? The Rototom Festival site features the live video here! You can view the 2007 Sunsplash TV interview video and photos as well.
More
Link: All of Shaggy's upcoming tour dates (as known so far)