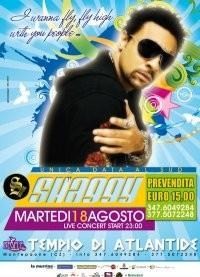 Shaggy to People Summer09 Il Tempio di Atlantide
Shaggy will perform on the People Summer09 Tempio di Atlantide in Montepaone Lido, Catanzaro, Calabria, South Italy on August 18, according to among others Excite and Check Sound Service.
Shaggy and Gary Nesta Pine at The Dome
Shaggy and Gary Nesta Pine will perform on The Dome 51 in the Anxess Arena in Cologne, Germany on August 21. Other artists to perform are Sunrise Avenue, Livingston, Lovestoned, Milow, Emiliana Torrini, David Guetta feat. Kelly Rowland, Culcha Candela, Cinema Bizarre & Space Cowboy, Youtube-Hype-Girl Eva Simons, Justin Bieber, The Dome-Urgestein Scooter, Frauenarzt & Manny Marc, Eisblume and Cascada. You can get more information about the show as well as ticket venues at the The Dome 51 official site. The show will be broadcast on RTL II on September 5 at 17.00h. Source: Life PR and The Dome News.
Lil Jon and Shaggy at BMO Fest
Lil Jon uploaded a video of himself, Omarion, Pitbull and Shaggy at the BMO Fest 2009 in Japan. Shaggy's at 7.43 minutes into the video!
North Cyprus concert review and photo
HaberFX wrote a review of Shaggy's concert last night at the Dance FM Beach Party at Club Mansion, Cornaro Beach, North Cyprus. Over 5000 people attended the show, that had impressive fireworks and a hugely successful Shaggy concert. Havadis Kibris also has a review and photo of the show!
The day before a press conference was held. The North Cyprus News has a small article and the Kibris Gazetesi has an article with photo from the conference.
Jazz an der Donau couch
Ralph Huber, the Jazz an der Donau organizer, sells the Jazz an der Donau couch for the Institute for Hearing charity. The couch has been signed by Shaggy and Santana. Source: Straubinger Tagblatt.
Fly High enters the Euro charts
Shaggy's hot summer single Fly High enters the European top 20 this week. Source: MTV, Euro Top Chart, 20.00h CET.