Jolly Rancher Riddim and Street Bullies Riddim
Shaggy's hot new song featuring Tessanne Chin, Never Let Me Go, is one of the tunes on the Jolly Rancher riddim. The riddim also features contributions by Christopher Martin (Here For You Always), Ce'Cile (Mek Dem Know) and Elephant Man (Call Out Yuh Man Name).
Shaggy's new tune Long Time, which is currently number one on among others the German reggae charts, is available on iTunes together with the other tunes on the Street Bullies Riddim! Get the tunes and the riddim here!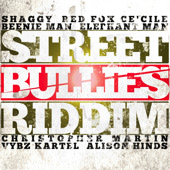 Street Bullies Riddim track list
1. Shaggy – Long Time
2. Red Foxx – Bounce (Radio Version)
3. Vybz Kartel – Slow Motion
4. Beenie Man – Humility
5. Elephant Man – Poverty
6. Christopher Martin – Vibe Is Right
7. Ce'Cile – Nah Stress Over Man
8. Alison Hinds – Rags Up (Give It to Them)
Dance for Climate Change Concert
Shaggy performed at the Dance for Climate Change in the Parken stadium, Copenhagen, Denmark on Monday. The concert will be broadcast on tv and radio in over 40 countries! A quote by Shaggy is quote of the day on Campaign Archive. Lenk Photos has a photo gallery of the concert, as does Powless!
Shaggy at the Dance for Climate Change Concert: Hey Sexy Lady (cellphone) video

Despite the big line-up, the turn out for the concert wasn't high, but the concert will be broadcast in over 40 countries. You can read reviews in the New York Times, Copenhagen Post, COP 15 Post and at Com 4 Dev.
Back to 2001: Shaggy at 125 milioni di Caz..te
Shaggy performed with Celentano on 125 milioni di Caz..te in 2001, both with casts and in chairs. Here's the video of the Boombastic performance!
Shaggy at 125 milioni di Caz..te in Italy, performing Boombastic together with Celentano!

Intoxication Music Skins
MusicSkins has skins featuring Shaggy's Intoxication album cover for iPod, Blackberry, PSP, Guitar Hero, Sidekick, laptops and more products here.