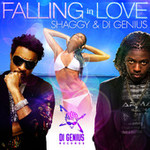 Brand new: Shaggy & Di Genius – Falling in Love!
You know that feeling? Butterflies in the stomach, feeling excited and happy to be around someone?
It's all about Falling in Love! Shaggy and Stephen "Di Genius" McGregor (who also produced the official Sugarcane remix) recorded a brand new tune together. You can listen to it below and get it now on iTunes!
New: Shaggy & Stephen "Di Genius" McGregor – Falling in Love