Tonight: Shaggy on the Tonight Show with Jay Leno on NBC!
Shaggy will perform his awesome new single Sugarcane on the Tonight Show with Jay Leno on NBC, tonight at 11:35/10:35 c ! Performances on the show are usually broadcast around 12:20-12:35am EST. Tune in!!
Tomorrow: Shaggy's Summer in Kingston album launch & Sugarcane video premiere in Jamaica!
The great new album Summer in Kingston and the video for the awesome new Sugarcane will be launched with a free concert on July 16 at Knutsford Boulevard in Shaggy's home country Jamaica!
Shaggy, Chino, Agent Sasco, Stephen "Di Genius" McGregor, Stone Love, Renaissance, the Tantrum Band, Ity and Fancy Cat and more will perform at this free concert, which starts at 7 PM. New Kingston will be on lockdown for this event and MTV and Rolling Stone will be there to cover the massive party! If you're in Jamaica, don't miss it!!
In an unprecedented promotion, Shaggy will premiere the Sugarcane video to thousands of fans that line up in Knutsford Square in Kingston, Jamaica at 7:00pm EST. Four huge screens will show the clip for maximum viewing in the square, and fans will be treated to performances from Shaggy, joined by Agent Sasco, Chino, Stephen "Di Genius" McGregor and more, to celebrate the launch in true Kingston style.
More about the launch: Boomshots, Jamaica Observer and Jamaica News Bulletin!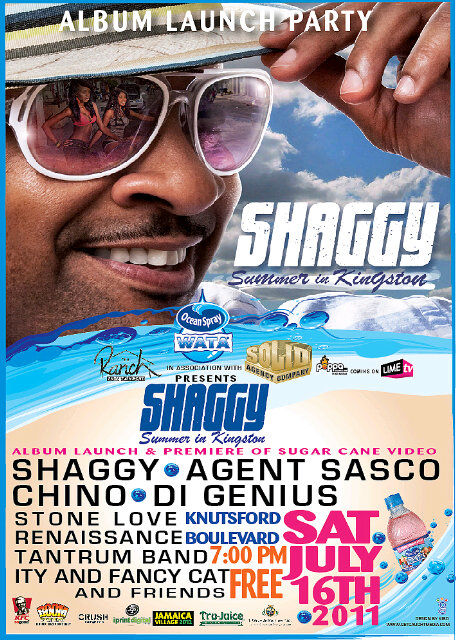 Shaggy's upcoming album Summer in Kingston will be released on July 19 on iTunes and other digital venues for a recession price of only $2.99! The off the hook new single Sugarcane is already available on iTunes!