Feel the Rush is a bonafide number 1!
Shaggy's UEFA EURO 2008 single Feel the Rush is topping the charts in Europe. It's number one on the trendchart in Germany! You can read more about it and download the full Feel the Rush video in .m4v on the official UEFA EURO 2008 site.
Shaggy on ZDF Fanbus and Video
Shaggy was on Fanbus, singing his UEFA EURO 2008 song Feel the Rush live with soccer fans! You can watch it on ZDF.de. Did you ever see him with such big hair ;)? Btw, it also says he'll be in Vienna tomorrow.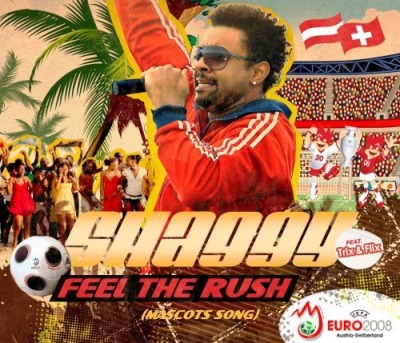 Copy the code below and add the Feel the Rush cd cover to your MySpace profile, blog or site (do not remove tags, do not upload elsewhere):
<a href="http://shaggy.v3x.biz"><img src="http://shaggy.v3x.biz/images/shaggyfeeltherushcover.jpg" hspace="10" vspace="10" alt="Feel the Rush"></a>