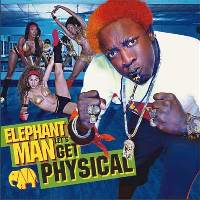 Shaggy will be featured on the new album Let's Get Physical by fellow Jamaican dancehall artist Elephant Man. The album, which is to be released in the first week of November, contains the track The Way We Roll (remix) by Elephant Man featuring Shaggy and Busta Rhymes . Elephant Man's long overdue album (he was said to release an album called Ova Di Wall years ago, which would also have The Way We Roll Remix featuring Busta Rhymes and Shaggy and maybe P. Diddy on it, wasn't released, Elephant Man signed to P. Diddy's Bad Boy records and is now releasing his new album on Bad Boy) can be seen here, you can also listen to part of the track with Shaggy if you click on the third track on that page.
The song was already released on mixtape last year so here are part of the lyrics of the beginning, Shaggy's part and the end of the song [lyrics are © of their original owners, no copyright infringement intended]. I'm not sure whether the song on Ele's upcoming album will be exactly the same as the song I have, but anyway:
"[Ele, Shaggy and Busta Rhymes] It's the remix!
This is the way we roll
Everybody, let me see you clap
Everybody, let me see you clap (hey)
Everybody, let me see you clap
Everybody,
This is the way we roll
Everybody, everybody let me see you roll
Everybody, everybody let me see you roll
Elephant Man, Busta Rhymes now, Shaggy!
(Keep moving) Everybody, this is the way we roll!
[Ele] Well Wi want everybody fi throw dem up yep
If you own a car key, throw dem up
Bimma or Lex, throw dem up
An di key to the ex, throw dem up
…
[Shaggy] Ah! Yeah!
Ah yuh body telling me and Busta and Ele a telling me
initially that yuh haffi talking bout yuh lips
belly suh selly like yuh pregnant a belly
wanna stick up yuh figure with yuh belly suh jelly
now let me tell yuh how the way we roll
got to mend out just in case she call
body eyes out girl lace we roll
we gotta stuck out…
girl if you have the thing that man a chase (shake it up)
yuh have the fire inna yuh waist (shake it up)
body shaped out inna lace (shake it up)
yardie thing hot fi mek mi embrace
yuh know seh Mr Lover lyrically me bad
me giving you all the style me driving woman me mad
now let me see you roll over represent the flag
and ride it off now fi Shaggy and di Energy God
…
rolling rolling rolling rolling and rolling…"
I also added the lyrics to Collie Buddz' Come Around Remix featuring Shaggy. Thanks for the lyrics once again Paul. Stay tuned for a video of Shaggy live at Rototom Sunsplash 2007 and a video interview!