Shaggy, Eve and Cabo Snoop at the Tusker All Stars Concert in Nairobi, Kenya
Shaggy and crew performed a two hour show at the Tusker All Stars concert in Nairobi, Kenya! Attendees say the concert was really great! During his two hour set, Shaggy and crew were joined on stage by Gramps and Peetah Morgan for a surprise performance. Shaggy played his new single Sugarcane as well as many of his old and new hits. Shaggy and crew also jammed to the crazy Get Down by Kenya's own Mad Traxx on stage!
Shaggy tweets: "Thanx to everyone who came out in the rain…..you are all troopers…Nairobe Rocks!!!!"
Wanna see photos of this super hot concert? Visit these photo galleries and photos by Tusker Lager, Michuzi Jr, Wanambisi Marvo, Networked, Charles Gacheru, Jose Ken Kago, Spoti Na Starehe, Haki and Marc!
Mr Boombastic live at the Tusker All Stars Concert on October 1 in Kenya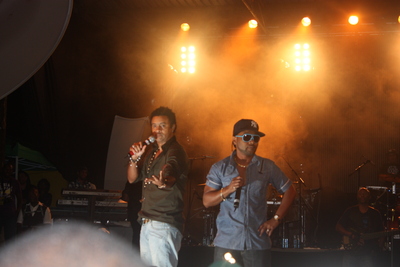 After the concert, Shaggy, Eve and many other artists went to Club Gallileo. A. Kiplagat has photos of Shaggy and Eve on stage!