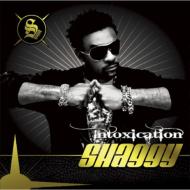 Shaggy's new album Intoxication will be released in a few weeks from now (at least in Japan as far as I know) and the track lists and album covers are finally starting to show up. Even for the Japanese versions of the album there are two track listings and two album covers, so I'm not sure which one is correct – or even if either one is correct. The first one is the one I linked before, the second one is also quite possible since a couple of radio stations that played the track formerly known as "Bonafide Girl" recently started to call it "Bonafide" (sorry, no playback links available). One of the bonus tracks differs, so maybe it's just versions from two countries. Anyway, if you're interested take a look below.
Off the songs of the new album Church Heathen, Reggae Vibes, Intoxication, All about Love, Mad, Mad World feat. Sizzla Kalonji and Collie Buddz, More Woman, Bonafide feat. Rik Rok and Tony Gold, Those Days feat. Na'Sha and Woman's Scorn have been played on radio at least once. I'm curious as to what the full tracks and other songs will be like!
BTW, do you like the album cover that was uploaded on several sites a couple of hours ago? Shaggy's name is still about the written in the same way, it's just a little longer, still looking cool. He has a new brand signature (if you can call it that), which looks gothic and fits right in with the Intoxication font, his image lately and the clothes he's wearing on the cover. I'm not sure whether this is the real album cover, no copyright infringement intended.
Intoxication (2007)
Can't Hold Me
Bonafide Girl feat. Rik Rok and Tony Gold
Intoxication
Those Were the Days feat. Na'Sha
More Woman
Woman's Scorn feat. Na'Sha
Mad, Mad World feat. Sizzla Kalonji & Collie Buddz
What's Love feat. Akon
Outta Control feat. Rayvon
Church Heathen
Criteria
Wear Di Crown feat. Mischieve
Holla At You
All About Love
Body A Shake *
Reggae Vibes *
Intoxication (2007)
Can't Hold Me
More Woman
Bonafide feat. Rik Rok and Tony Gold
Intoxication
Those Days feat. Na'Sha
Holla At You
Outta Control feat. Rayvon
Woman's Scorn
Church Heathen
Wear Di Crown feat. Mischieve
Criteria
Mad, Mad World feat. Sizzla Kalonji and Collie Buddz
What's Love feat. Akon
All About Love
Reggae Vibes *
Wrong Move *
* = the asterisk indicates that the song is a bonus track