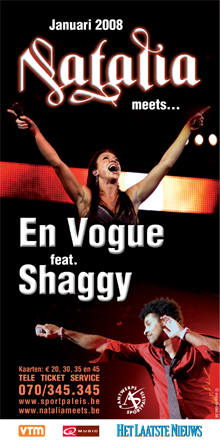 One more date has been added to Shaggy's concert series in Antwerp, Belgium at the Natalia Meets…En Vogue featuring Shaggy concerts. Natalia, En Vogue and Shaggy will also perform on Saturday January 12, 2008 in addition to January 5, 6 and 11 2008. Source.
Flyer is © of its original owners and creators, no copyright infringement intended, for promotional purposes only.
For a full overview of Shaggy's tour schedule visit the concert dates page.