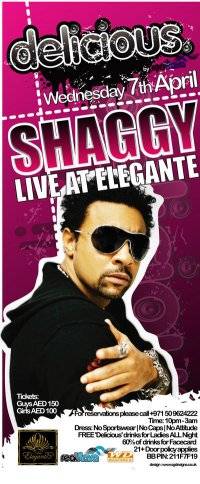 More info: Delicious at Elegante, Dubai, United Arab Emirates April 7
Shaggy, Rayvon and DJ Bliss will perform at Delicious in Club Elegante, Dubai, United Arab Emirates tonight. Info about tickets and more: Facebook, Time Out Dubai and Platinum List.
I Am Legend 3 review and photos
Beres Hammond, Morgan Heritage, Gyptian and Shaggy performed at the I Am Legend concert in Queen's Park Savannah, Port of Spain, Trinidad & Tobago on Monday. The Trinidad & Tobago's Newsday has a review!
The Trinidad Express has a photo of Shaggy on stage as does Trini Jungle Juice. More photos on Trini Jungle Juice will follow!
Michael Fletcher article and interview
Wanna know more about Michael Fletcher, bass guitarist for Shaggy? The Jamaica Gleaner has a long article with interview and photos!
Shaggy to Portugal
Shaggy will perform at the Delta Tejo Festival near Lisbon, Portugal on July 2! He'll also perform in Portugal in May at the Queima das Fitas 2010 (May 7) and at the Semana Academica of the University of Algarve (May). For info about tickets and more, visit the Delta Tejo Festival official site and Festivais.