Upcoming song: Shaggy & Shaki – "Anything" on the 1st Quarters Riddim!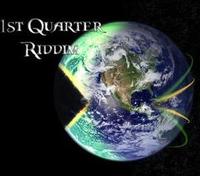 Shaggy and female artist Shaki recorded a combination entitled Anything on the new 1st Quarters riddim!
The 1st Quarters riddim was produced by producer extraordinaire Tony "CD" Kelly, who also produced other hit songs like Shaggy's For Yur Eyez Only, Church Heathen, Long Time, Ready Fi Di Ride, Beenie Man's Bookshelf and Sean Paul's Like Glue and Deport Dem!
A big thank you to Danny Pepperseed for the info!
Listen to Anything on Dancehall Vibes
Check out Shaggy's new song Anything feat. Shaki on Danny Pepperseed's Dancehall Vibes radio show on Omroep Helmond! The program starts with a shout out by Shaggy. The 1st Quarters Riddim, including Anything, is featured at around 22 minutes into the show! Listen here: part 1 ft. Shaggy and part 2.
Dancehall Vibes, the best in reggae and dancehall music, is broadcast on Wednesday between 10 and 12 P.M. CEST and on Thursday between 1 and 3 P.M. CEST. There will be a live audio stream here!