Shaggy & Hezron Two Places video premier today on TVJ!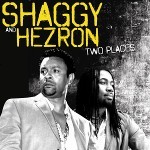 Shaggy and Hezron shot a video for their collaboration Two Places, which has been getting a lot of airplay. It will be released today on TVJ! Producer of the song and same-titled riddim, Danny Champagne, says: "Both complement each other on the song. The contrast between Hezron; a reggae singer, and Shaggy, who is a great DJ makes the track that much better and the lyrics is something that people live everyday so they will identify with it."
It was Danny Champagne who was instrumental in bringing Hezron and Shaggy together to record the song. He says he's confident that the song is a hit and the video will only make it better: "I think the video took a while but it's a good video. It tells the story that was designed for it and the final product is of a good quality". Champagne also reveals he is happy with the response the song has been getting based on radio play. "We are happy with the song and it has been playing well on the radio continuously and that pushed us to do the video. I showed some people the video and they loved it and as far as I am concerned the song is already a hit and the video will only make it better".
Singer Hezron comments about the video: "It was a good storyline and I like the way it was shot. The song has been doing really well and I believe the video can only help it to go further." Source: Caribbean Festivals. The video for Two Places will premier on TVJ's Intense today!
Tune in today to TVJ at 8 PM (GMT-5) to watch the video premier! TVJ's Intense will be streamed live!