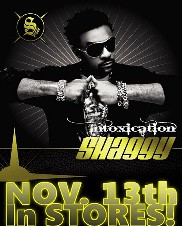 Shaggy's new single Bonafide Girl from his 2007 album Intoxication hit the #1 position on the UK iTunes chart as well as on the BBC 1Xtra Dancehall Chart! Scroll down for Shaggy videos, audio files, promotional stuff, interviews, reviews and more.
November 17 – Several hours of Shaggy interview videos, promotional fun, audio and Intoxication reviews
Intoxication reviews and goodies
Interview at Jam.Canoe.ca – XLR8R – Jamaica Observer – Boston.com – kiel4kiel.de – Beat Trend. If you live in the US or Canada, you can participate in an Intoxication cd competition at The Celebrity Cafe.
Shaggy on PBS' Tavis Smiley
Shaggy appeared on Tavis Smiley's show on PBS on Wednesday November 14, where he spoke about performing for wounded US troops in Germany and Condoleezza Rice knowing his songs and dancing to his concert at the . You can watch part of the video on the PBS last Wednesday's Tavis Smiley show page featuring Colonel Twitty and Shaggy page as well as listen to the full interview here.

Alison Hinds and Shaggy on stage at Alison Hinds' SOB album release party

Hilarious "How to make your Intoxication Drink" by Shaggy video
Reggae-TV.com
Reggae-TV.com did an interview with Shaggy while he was at the Reggae SunSplash 2007 in July in Italy, you can watch it and download it here (for the high quality video download you need to register). Here's a short promo for the interview video:
Shaggy interview by Squeeze for Link Up Media and Plush TV part I
This is part one of the interview, you'll be able to watch the rest of the one hour interview here.

Shaggy about the Intellectual Property and Copyright Laws in Jamaica
Shaggy was one of the speakers at the United Nations World Intellectual Property Organization's (WIPO) on the Role of IP in the Creative Industries in Geneva, Switzerland. Read more about it at the Huffington Post and the WIPO official site.
Shaggy on Copyright Laws in Jamaica

Shaggy interview at the Red Carpet of the MOBO Awards 2007 in the O2 Arena in London
Shaggy hosted the MOBO Awards 2007 together with UK artist Jamelia in September 2007, here's another video of Shaggy on the red carpet about other artists like Amy Winehouse, Robin Thicke, T-Pain and Young Jock.

Shaggy live at Universal City Walk in Hollywood and on tv
After the Tavis Smiley show, Shaggy did a free concert and cd signing session at the Universal City Walk in Hollywood. Because of the Writers Guild of America Strike, the recordings of Shaggy at other venues than PBS in Los Angeles didn't go as planned (Reuters). Speaking about other tv performances, Shaggy's concert at the AVO Sessions 2006 will be broadcast again early this morning on 3sat. And here's more about Shaggy at the World Music Awards 2007 in Monte Carlo, Monaco where he presented two awards.
Shaggy and Alicia Keys – No One Tranzformas Remix
I got a lot of questions from people who wanted to hear the "No One remix" by Alicia Keys and Shaggy (Big Yard / White Label) again, so I found a link for you all. Reggae Rhythm Update #29 from the Golden Touch Studio played the Alicia Keys & Shaggy No One Tranzformas Remix monster hit at the start of their program and even named their show after it. Listen to the mp3 podcast here.
More
Video of Bonafide Shaggy feat. Rik Rok and Tony Gold and Broadway featuring Barrington Levy on Caribbean TV after Taurus Riley and tv promotion advertisement video for Natalia meets En Vogue feat. Shaggy which will take place in January 2008 in Belgium.