All content and graphics © 2007-2016 shaggy.v3x.biz, no copyright infringement intended, links to external sources or content obtained from other sources or edited from other and external sources whether they be videos, images or other content are beyond the control of Shaggy.v3x.biz and Shaggy.v3x.biz will therefore not be liable to any claims concerning those or the information obtained from them. If you have a problem with the content of this site and you want part of it be removed, please kindly inform us at contact[at]Shaggy.v3x.biz. This Shaggy fan site is not affiliated with any other Shaggy site, Shaggy or Ranch Entertainment. Do not copy any of the content of this site without crediting this site with a link or asking permission first!
Last change: July 07 2008. 10:37:05
News archive of February 2008
February 28 Part II - New Shaggy UEFA EURO 2008 single "Feel the Rush"; video to be released in April
Shaggy is helping to get the UEFA EURO 2008 Soccer Cup Party started. Yesterday, he presented his new single "(Trix & Flix feat. Shaggy) Like A Superstar" in Bern, Switzerland at an event where also the new UEFA EURO 2008 soccer site was launched. French urban artist Bashi, who recorded the refrains in French/Swiss as "Bring en hei", was also there. You can view a YouTube video of Shaggy and Bashi below.
Shaggy also added another song to the UEFA EURO 2008 soundtrack (which also features a song by Rollo from Faithless among others). Shaggy's new song is a very energetic song called "Feel the Rush". Shaggy also already shot a video for this new single, showing him traveling through the country side - oh yeah, being transported on a motor tractor - to the stadium, while he meets all kinds of people and plays soccer with a couple of boys. It's actually pretty cool!
This new Shaggy single and video clip will be released in Berlin, Germany, in April. You can read an interview with Shaggy and view a picture from the video shoot (click on "vergrößern" to enlarge) as well as pic from the press conference (click on the photo itself to enlarge it) on
DiePresseSport
.
February 28 - Shaggy in Bern
More later.
February 27 - Best Dancehall Video Church Heathen at Reggae Academy Awards
From the short list on
United Reggae
: Shaggy also won the award for Best Dancehall Video for Church Heathen Remix, produced by Jay Will, at the Reggae Academy Awards. Congratulations Shaggy!
Full list on the
Jamaica Gleaner
.
February 26 Part II - Shaggy at EURO Soccer 2008 Party
The UEFA EURO Soccer 2008, for which Shaggy and the official mascots Trix & Flix made the single "Like A Super Star", will take place from February 28 until June 7 2008. Shaggy will kick off the festivities at a EURO 2008 party in Bern, Switzerland, on Thursday. Source:
ARD
.
February 26 Part I - Intoxication Best Dancehall Album at Reggae Music Academy Awards
Sunday night the Reggae Academy Awards were held at the Indoor Sports Facility in Kingston, Jamaica. Shaggy won the award for the Best Dancehall Album for his latest studio album Intoxication. Congratulations Shaggy!
You can view a picture of Shaggy and Rik Rok at the Reggae Academy Awards
here at Yard Flex
.
February 24 - Jamfest!
The Negril Spring Break Jamfest 2008 will see Mr Lover Lover perform on March 17. You can get more info about Negril Spring Break and Jamfest on the Jam Fest 2008
official site
which has finally opened.
Shaggy performed on Jamfest before and it was a hoooot show! Here's a 25 minutes (280 MB) video of Shaggy, Rayvon, Brian & Tony Gold, Robert 'Dubwise' Browne, Michael Fletcher and Ninja Man thanks to Caribbean TV!!
Shaggy on Jamfest: Wild 2Nite, Hot Gal, Bashment Party, Boombastic, Hey Sexy Lady, Strength of a Woman, It Wasn't Me, Angel and Church Heathen
February 20 - It's here! Shaggy and Akon hot new What's Love video
It's hot, it's sexy, it's different, it's classy, it's Shaggy's new hit single, it's on MySpace! You can watch the new video by Shaggy, Akon and Hype Williams from Shaggy's latest studio album Intoxication right here!
February 20 - Video
No, it's not the What's Love video yet, which is set to premier later today. Stay tuned for the Akon and Shaggy video on
MySpace
(
source
)! In the meantime, enjoy this video of Shaggy and Twofingerz performing in Italy last year:
Shaggy and Twofingerz at club Hollywood in Milan, Italy
February 19 - Shaggy & Akon What's Love World Premiere
Shaggy's hot new video What's Love will be shown to the world in an exclusive on the MySpace front page tomorrow, Wednesday February 20, starting at 12 pm PST / 3 pm EST!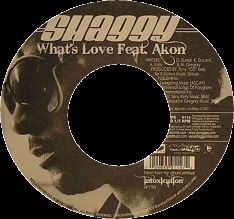 What's Love is the third hit single after Church Heathen and Bonafide Girl from Shaggy's latest VP/Big Yard studio album Intoxication and features none other than Akon. Shaggy recently performed What's Love on NBC's The Tonight Show with Jay Leno, and currently the single is receiving the most U.S. radio air play for its genre.

The video was directed by the legendary Hype Williams, who is well-known for his video clips with Kanye West, Beyonce, Jay-Z and Missy Elliot. His production perfectly complements What's Love with his colorful and bold direction. Moreover, a special behind-the-scenes making of this high concept, high fashion video will be shown. Source: Shaggy's MySpace.

Watch the new video by Shaggy feat. Akon What's Love here on Wednesday February 20
Please scroll down for more of the latest news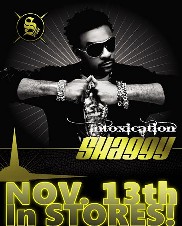 Ask Shaggy anything on Second Life!
Did you ever dream of meeting Shaggy? If you could ask Mister Boombastic one question, what would it be?
Well, here's your chance to win tickets to the exclusive "An Audience with Shaggy" in Second Life! To mark the release of Shaggy's new single, Bonafide Girl, which is currently #1 on the iTunes Charts, you're invited to join the Facebook group If I Met Shaggy In Second Life, This Is What I'd Ask Him. The first 150 fans to join the Facebook group will be guaranteed access to the event, which will take place in a secret location in Second Life in the New Year.
Videos of Shaggy's Intoxication album will be shown, before Mr. Lover Lover arrives to hang out with his fans and answer their questions. And that's not even all, if you're one of the lucky ones you'll receive an exclusive goodie bag "filled with limited edition t-shirts and gold jewellery", says Joy Ellington of reggae record label VP. So, if you're a Shaggy fan or if you wanna ask Mister Lover Lover a question, what are you waiting for?
Sign up here for Shaggy's Facebook Group!
February 18 - Arash and Shaggy: Donya
The first single from Iranian artist Arash's new album is called Donya and features Shaggy! Shaggy and Arash presented the video for Donya yesterday at club Ritual Hollywood (click
here for a picture
thnx to
Mike Soltano
and
Nyla Magazine
).
Arash's second studio album features collaborations with Shaggy, Lumidee, Rebecca and Helena and will be released soon (
source
) as well as the first single featuring Shaggy, Donya.
February 16 - Where in the world is Shaggy?
DJ Kue made a documentary about Shaggy's whereabouts on his current Intoxication promotion tour. New videos will be added every two weeks! So if you wanna know what Shaggy and the Big Yard crew have been up to lately, check this cool video!
Where in the World is Shaggy Part I
It features Shaggy, Rik Rok, Rayvon, Paul "Rossy" Lee and DJ Kue from places where the Big Yard crew went for the last couple of months: Backstage at MTV, Germany, MTV Europe Music Awards, Monaco, World Music Awards with Patty Labelle, Miami, Los Angeles City Walk, New York Bloomberg TV with Mike Schneider, CW11 Morning TV, Japan, Belgium, Malaysia, Istanbul, Turkey, Stefan Raab TV Total, on a plane back to Germany from the UK Nickelodeon Kids Choice Awards and the Stefan Raab Stock Car Challenge. Thnx to DJ Kue for this behind the scenes view!
February 15 Part II - Natalia & Shaggy Drop a Little
One more YouTube video
.
February 15 - Shaggy on Groove Mobile
Business article
.
February 12 Part II - Reggae Academy Awards
The Reggae Academy Awards 2008 will be held on Sunday, February 24 at the National Indoor Sports Centre in Kingston, Jamaica. Shaggy will be one of the artists to perform at the Awards Show, as well as Sean Paul, Buju Banton, Bounty Killer, Morgan Heritage, Junior Reid, Elephant Man, Diana King and Toots Hibbert.
Official site
.
February 12 - Natalia Meets... compilation video
February 11 - Natalia Meets... video
Natalia & Shaggy Drop a Little
February 10 - Dancehall Rolemodel of the Year
Mr Lover Lover won the Dancehall Role Model of the Year Award at the Hot 102 FM EME Awards. Congratulations Shaggy! ;)
Source
.
February 9 Part II - Shaggy for Afrika Karibik Festival in Germany
Shaggy will headline the opening night of the Afrika Karibik Festival in Aschaffenburg, Germany on August 14. Other acts that will perform on the festival which will take place between August 14 and 17 2008, are Gentleman and the Far East Band, Jan Delay and Disko No. 1, "Mr. No-Monkey" Wally Warning, Ohrbooten, Sambodromo, Jah Sesco, Yah Meek and Anthony Locks.
The tickets
are for sale already, the first 2000 tickets go for special prices. You can read all about it the
official festival site
.
February 9 - More Natalia Meets... videos
Boombastic
-
Strength of a Woman
.
The end of the show
February 8
Shaggy on the 1Xtra annual Bob Marley Day
- More videos from the Natalia Meets... concert series:
Strength of a Woman
-
Drop a Little
.
February 7 Part II - 2007 Carnival 1Xtra After Party photos
Shaggy (yellow shirt) on the 1Xtra Carnival After Party 2007
.
February 7 - 2 new February tour dates
Shaggy's Platinum VIP Intoxication Album Release Party
February, 8 2008 at
Club Pinnacle
720 Arch St, Philadelphia, Pennsylvania
February, 9 2008 at Club Passions
Providence, Rhode Island
Courtesy of
Shaggy's MySpace.
February 5 Part III - Another Natalia Meets... tv report
Report on the Natalia Meets... En Vogue feat. Shaggy concert series from a Belgian tv show - sorry I don't know what station (Interview, Rising, Oh Carolina)
February 5 Part II- Special guest at Sean Kingston's birthday
Shaggy was the guest of honor at Sean Kingston's (Beautiful Girls) 18th birthday party! He performed Boombastic and Church Heathen and fellow Big Yard artist Christopher Martin also hit the stage. Sounds like a special birthday party to me, even for a star! The celebrations were captured by MTV, which will air it in their upcoming Celebrity Super Birthday series. Source:
Jamaica Observer
.
February 5 - Shaggy interviews
Thanks to clothesdrop over at the Big Yard Message Board, I didn't know about the magazine before: Shaggy's on the cover of the
Posh Magazine
!
You can view or download pages from the Caribbean Posh magazine for free at the
Caribbean Posh site
. Fill in your data then go to the Digital Flipbook, Shaggy is on the cover, contents, there's a large interview with Shaggy including big pics at page 27 to 30, Shaggy's "All About Love" from his new studio album Intoxication is mentioned as a Valentine's gift on page 43 and Shaggy's on the 5 Most Stylish List a couple of pages from there. You can also read the entire interview if you go to Entertainment / Culture. Thanks Ben for the email once again, thnx and big up clothesdrop for the find!
The Drama Queen for PNC TV interview with Shaggy is on YouTube again, if you haven't seen it yet or wanna see it again
here
's your link.
February 4 - Riddim Soundclash 2007 video and more
Shaggy and Rik Rok Boombastic, Church Heathen and It Wasn't Me at the Riddim Soundclash 2007 (between David Rodigan, Sentinel and Black Scorpio) in Dusseldorf, Germany
More from YouTube:
Pics of Natalia Meets... En Vogue feat. Shaggy by Laprincipessa
and the Temptation Island "In Jamaica we say
go get it
" - full Temptation Island video
here
.
February 2 - Like a Superstar official UEFA video presentation
The UEFA officially presented the Like a Superstar video clip by mascots Trix & Flix, feat. Shaggy and you can watch a high quality version of the video at the
UEFA site
.
February 1 - Natalia Meets... En Vogue feat. Shaggy
More pics
at Indymedia.be.
More Shaggy news
You can find the latest updates and newest info and videos at the front page. Click
home
to go there. If you want to view the upcoming Shaggy releases, please
follow this link
. If you want to view more news from the Shaggy archive, click
here
/