All content and graphics © 2007-2016 shaggy.v3x.biz, no copyright infringement intended, links to external sources or content obtained from other sources or edited from other and external sources whether they be videos, images or other content are beyond the control of Shaggy.v3x.biz and Shaggy.v3x.biz will therefore not be liable to any claims concerning those or the information obtained from them. If you have a problem with the content of this site and you want part of it be removed, please kindly inform us at contact[at]Shaggy.v3x.biz. This Shaggy fan site is not affiliated with any other Shaggy site, Shaggy or Ranch Entertainment. Do not copy any of the content of this site without crediting this site with a link or asking permission first!
Last change: June 01 2008. 10:21:04
News archive of the first part of April 2008
April 30 - Cyndi Lauper and Shaggy on 3Sat
TV station 3Sat will air the Cyndi Lauper and Friends: Decades Rock Live on 3Sat on May 1 from 11:30h. On this show, Shaggy performed together with Cyndi Lauper and is interiewed backstage.
April 28 - More UEFA EURO 2008 Feel the Rush links
Here are more links to pictures, videos and articles about Shaggy's new EUFA EURO 2008 video Feel the Rush premier.
TV Programme on Shaggy Making Feel the Rush
A Making of the Song and Video Feel the Rush will be broadcast on TV on June 5 17.15h on the Bayerischen Fernsehen and on Jun 6 17.15h on 3-Sat.
April 26 - TMF Awards 2001 footage
Shaggy, Rayvon and band Angel at the TMF Awards 2001

Shaggy, Rik Rok and band It Wasn't Me at the TMF Awards 2001

April 25- Shaggy on Z93 Jamz
Shaggy and Rayvon were interviewed on the Z93 Jamz radio station by Deja Dee before the Reggae Block Party in Charleston, USA. It's all about their current projects, Intoxication, the EURO 2008 and the 2nd Annual Reggae Block Party.
Shaggy on Z93 Jamz

April 25 - More Shaggy tour dates
Shaggy's official MySpace just confirmed more Shaggy tour dates! The newly confirmed ones are:
May 4 IRAWMA Harlem New York USA
May 17 Reggae on the Beach, Valencia, Spain
May 21 Radio Show, Vienna, Austria
May 24 Radio Event, Fort Myers, Florida, USA
May 31 DJ Willie Daniels Birthday Party, Rochester, New York, USA
April 22 - Shaggy at Two 77 Splash in Holland
Shaggy will be headlining the Two 77 Splash Festival in Amsterdam, the Netherlands on July 6! Two 77 Splash is a reggae festival featuring a lot of big names in reggae and dancehall: Shaggy, Lady Saw, Buju Banton, Beres Hammond and Pressure will be among the artists to perform in and around the Heineken Music Hall and Open Air Market Square. Tickets are available starting Saturday 10 am local time and are 47.50 euro each excluding service costs. You will be able to find more information at the official
Two 77 Splash
site.
April 22 - Shaggy at Hype TV Jamaica
Shaggy drops a few words for Hype TV Jamaica

April 22 - More Feel the Rush articles
Shaggy presented his new UEFA EURO 2008 video Feel the Rush in Berlin, Germany on April 21st. Here´s a list of articles, pictures - other than the ones I already linked posted on shaggy.v3x.biz - and as much of the video as was released online so far! Enjoy!
Sneak peek at the Feel the Rush video

April 21 Part II Addition - Feel the Rush cover
Shaggy will present the video to the new official UEFA EURO 2008 single Feel the Rush today in Berlin, Germany! Here's a preview of what the single cover looks like. Enjoy!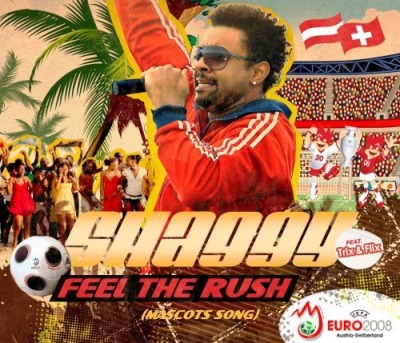 April 21 Part III - Shaggy interview
The Ladies of Reggae
interviewed Shaggy about his newest studio album Intoxication in November 2007. You can listen to the interview below!
April 21 Part II - Feel the Rush
The Berliner Kurier has an article about
Feel the Rush
, the new UEFA EURO 2008 video and single that Shaggy will present later today in Berlin, Germany. The video clip shows him travelling from Jamaica to the soccer stadium in Klagenfurt, Austria.
Article at Berlin Online
.
April 21 - Shaggy and Ele at Latin Quarters, New York
Here's
another video of Shaggy, Da'Ville and Elephant Man at Latin Quarters in New York City. You'll see a glimpse of Shaggy while Elephant Man dj's. If you wanna see Shaggy grab the mic in Latin Quarters NYC, go to my April 10 post.
April 19 - Combined news
Friday Night Project live video
Shaggy visited Friday Night Project a while ago when
Kim Cattrall
(Samantha from SATC) was hosting and now he's back once more to promote his new single featuring Akon,
What's Love
!
Geri Halliwell, Shaggy on Friday Night Project
Feel the Rush
As reported before, Shaggy will present his new official UEFA EURO 2008 video
Feel the Rush
in Berlin, Germany this Monday. Here are some German articles about the event that also contain Shaggy pictures:
Welt.de
and
Nachrichten.ch
.
Shaggy in Hawaii interview videos
Sister to Sister Charity
Shaggy helps the Jamaican Sister to Sister charity
article
.
Natalia Meets... En Vogue feat. Shaggy
Here's one more
YouTube user video
from the Natalia Meets... En Vogue feat. Shaggy concert series (January 2008, Belgium): Natalia & En Vogue What a Man and Natalia feat. Shaggy, Drop a Little.
April ? - Qwote and Shaggy The Video
It might take some time to load and you might to get to see a 15 seconds ad first, but here it finally is...
The video by Qwote feat. Shaggy: Don't Wanna Fight!
April 9 Part III - Shaggy at IRAWMA
Shaggy will walk the red carpet and partcipate on stage at the 27th Annual International Reggae and World Music Awards, at the famous Apollo Theatre in New York, on Sunday, May 4. Shaggy is nominated in 4 categories (best album, best song, best video and best male dj/rapper). Errol Brown, recording engineer for Bob Marley, will be inducted into the IRAWMA Hall of Fame.
Other artists who will be presenting and performing at the IRAWMA are Janet Hubert (Vivian Banks, the mom on the Fresh Prince of Bel Air), Etana, Ky-Mani Marley, Beenie Man, Doug E Fresh, Tarrus Riley, Machel Montano, Billy Ocean, Sean Kingston, Miss Jamaica 2007, Buju Banton, Macka Diamond, Lady G, Claudelle Clarke, Tony Rebel, Lady Ann, Dean Fraser, Winsome Benjamin, D'Angel, Queen Ifrika, Mutabaruka, Cecile, Junior Reid, Shelia Hylton, and Dwight Pickney.
Source:
Jamaica Observer
.
Official site
.
April 9 Part II - Shaggy live in Hawaii photos
Shaggy performed in Hawaii on March 28. Among the audience was Michael
Jackson's
dad. Roroli.com has pictures of Shaggy, Rayvon, Na'Sha, Robert "Dubwise" Browne, Michael Fletcher and more and an article! Thanks to
Haiti
Exchange.
April 9 - Shaggy and Rayvon at Reggae Riddims Live video
Shaggy, Rayvon and Elephant Man performed at the Reggae Riddims Live, presented by Hot 93.7 FM, on April 4 2008. Here's a video of Shaggy and Rayvon performing It Wasn't Me, Boombastic and Wild 2Nite!
Shaggy and Rayvon at the Hot 93.7 Reggae Riddims Live 2008 video
April 8 - Jay Will, video producer
The Jamaica Gleaner
has an article about video director Jay Will, who directed many Shaggy videos among which Broadway, Church Heathen, Bonafide Girl and Feel the Rush. They interviewed both him and Shaggy at the set of the Feel the Rush video shoot. You can read the article right
here
.
The video for Feel the Rush is said to be presented in Berlin, Germany around April 21st.
April 4 - Shaggy and Elephant Man in concert
Elephant Man celebrated the release of Let's Get Physical, his long-awaited 2008 album, yesterday in New York City. Let's Get Physical features a lot of guest artists, among whom Shaggy and Busta Rhymes on "The Way We Roll". Shaggy was present at the N.Y.C. release party and turned up the heat even more. You can watch videos of Shaggy and Elephant Man below thanks to Nievespromo!
Shaggy and Elephant Man at the Let's Get Physical album release party
Video of Shaggy at Elephant Man's album release party
Today, Shaggy, Elephant Man, DJ Buck, Dancehall Queen Candy, Nancy Barrow, DJ Ricky D and Trevor de Engineer will be at the Hot 93.7 FM Reggae Riddims Live at the Hippodrome in 1700 Main Street Springfield, MA. You can read more about it on
Hot 93.7 FM Myspace
. Hot 93.7 FM also has photos of Shaggy on
DJ Buck's birthday weekend
.
Shaggy on EURO 2008 interview